Connecting Hancher to the GE CLAS Core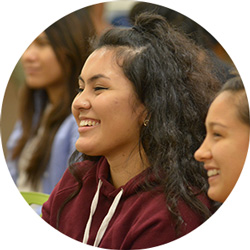 Hancher's campus engagement programs aim to enlighten those hungry for knowledge, energize each individual's creative engine, and cultivate connections between our community and the larger world. To that end, we have created Hancher Links, a handy guide to help faculty and staff make connections between Hancher's performances and UI courses and programs. Using the university's GE CLAS Core as a framework, we've categorized our performances into groups with shared themes or disciplines.    
A number of faculty members have students purchase Hancher tickets as part of their course materials similar to a required textbook. Student tickets for most performances will be just $5 at our Hancher is for Hawkeyes event on August 29 and just $10 during the rest of the year. If you are interested in holding a block of tickets for purchase by the students in your class, contact the Hancher Box Office at (319) 335-1160 or 800-HANCHER. Ask for Leslie or Elizabeth to reserve tickets. 
In addition, Hancher artists often visit classes, give public lectures, hold workshops, participate in panels, meet with faculty members, and show excerpts of their work during their time on campus. Please feel free to contact me to explore any ideas you might have about how your class or department can partner with Hancher in the coming year.  
Thanks! 
Micah Ariel James
Education Manager, Hancher, The University of Iowa 
micahariel-james@uiowa.edu | (319) 335-0009  
hancher.uiowa.edu 
---
JUMP TO:
---
DIVERSITY AND INCLUSION 
Reflect critically on social and cultural perspectives while engaging with work that reflects the stories and perspectives of others 
---
ENGINEERING BE CREATIVE 
Explore the creative process 
---
HISTORICAL PERSPECTIVES 
Examine the historical processes of change and continuity; interpret historical change; and understand the past in its own terms 
---
INTERNATIONAL AND GLOBAL ISSUES 
Analyze contemporary issues from an international perspective 
---
INTERPRETATION OF LITERATURE 
Focus on the major genres of literature (short and long fiction, nonfiction, poetry, and drama) 
---
LITERARY, VISUAL, AND PERFORMING ARTS 
Develop the analytic, expressive, and imaginative abilities necessary for understanding, appreciating, and creating art 
---
NATURAL SCIENCES 
Explore the scope and major concepts of a scientific discipline 
---
RHETORIC 
Engage with programming that focuses on the spoken word 
---
SOCIAL SCIENCES 
Focus on human behavior and the institutions and social systems that shape and are shaped by that behavior 
---
VALUES AND CULTURE 
Examine how culture shapes the human experience and the role of values in society 
---
WORLD LANGUAGES 
Engage with productions that feature languages other than English or English translations of works written in other languages 
For More Information:
Micah Ariel James
Associate Director of Education and Community Engagement
(319) 335-0009