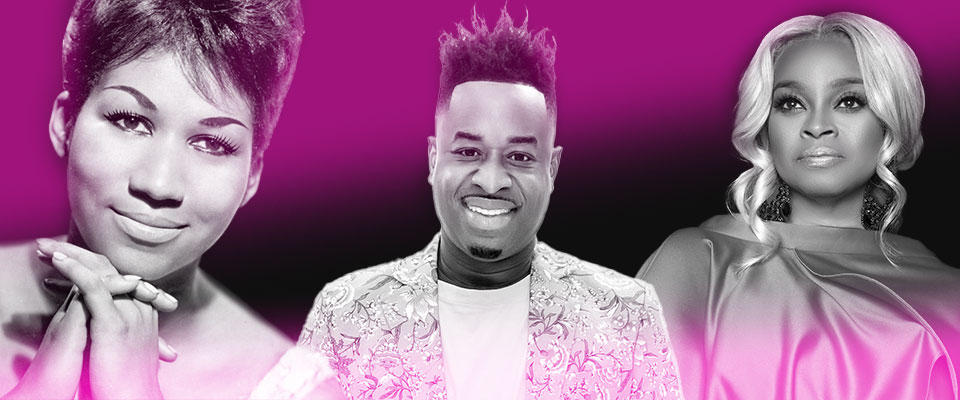 A Tribute to Aretha Franklin: The Queen of Soul
Featuring Damien Sneed and special guest Karen Clark Sheard
Tickets
ADULTS: $30 / $40 / $50
COLLEGE STUDENTS: $10 / $10 / $45
YOUTH: $10 / $10 / $25
In 2004, Aretha Franklin brought the house down in the original Hancher Auditorium. Now, we invite her towering spirit into the new Hancher with a multi-media tribute performance by created by Damien Sneed--who toured with Franklin late in her career and developed a stronger mentor/mentee relationship with the soul legend--and an accomplished collection of jazz, gospel, and soul musicians. Gospel music legend and four-time Grammy Award-winner (not to mention her multiple Stellar and GMA Dove Awards) Karen Clark Sheard will bring her signature, one-of-a-kind multi-octave vocal range and musicality to the stage in honor of Aretha as well.
Preorder food from the Stanley Café!
Avoid the lines by making your food selections before you come to Hancher Auditorium. The Stanley Café will have staff members ready to get your order—including beverages you order when you pick up your food–fast! Orders will be accepted up to 12 p.m. the day before the event.
EVENT PARTNERS
Loretta Angerer
Norma and David Carlson
Charlie and Connie Funk
Bruce and Melanie Haupert
Kenneth K. Kinsey Family Foundation
Jean Koch
Gary and Randi Levitz
Donald (1935–2021) and Rachel (1932–2022) Levy
Dorothy Paul
Jeffrey R. and Tammy S. Tronvold
Individuals with disabilities are encouraged to attend all University of Iowa sponsored events. If you are a person with a disability who requires a reasonable accommodation in order to participate in this program, please contact Paris Sissel in advance at (319) 467-4849 or at paris-sissel@uiowa.edu.