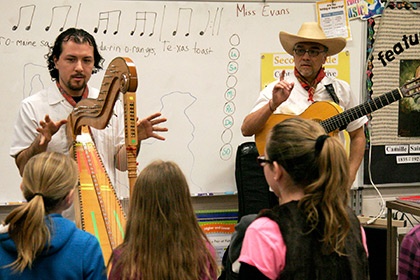 Hancher's education program is generously supported by:
The Herbert A. and Janice A. Wilson Arts Education Fund
The Mary K. Calkin Arts Education Fund
The Sara and Sherwood Wolfson Arts Education Fund
The Wallace Foundation
Hancher Partners
Contributors to the Hancher Circle Fund
The Hancher Guild Showcase
 
Reaching out beyond the edge of the stage
Hancher's education programs cultivate connections that excite schoolchildren, enlighten those hungry for knowledge, and energize each individual's creative engine. The 2017-18 season will feature a number of engagement events on campus and in the local community. Resident artists will include KJ Sanchez, Niyaz, La Santa Cecilia, G. Willow Wilson, Camille A. Brown & Dancers, Amir ElSaffar and Rivers of Sound, Feathers of Fire, Circa, Zeshan Bagewadi, Terence Blanchard, Billy Childs, and Taylor Mac.