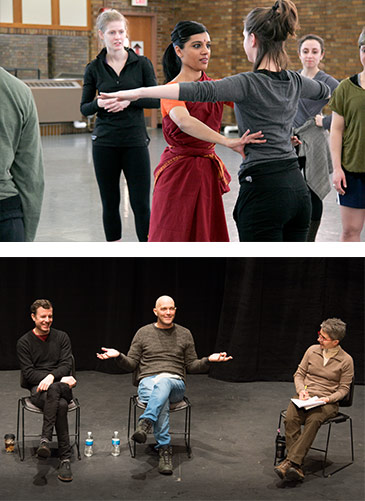 Hancher is a leader in positioning the arts at the center of campus life. Since receiving a Doris Duke Creative Campus Innovations Grant in 2007, Hancher has increased efforts to deepen engagement with academic partners across campus, leading to extended residencies with artists like Step Afrika!, Niyaz, La Santa Cecilia, G. Willow Wilson, the Russian National Orchestra, Terence Blanchard, Taylor Mac, Camille A. Brown, Rinde Eckert, Martha Redbone, Rufus Reid, Rahim AlHaj, and Liz Lerman. These artists work with students and faculty from a variety of disciplines during their time on campus, using the arts as a way to bring scholarship to life. 
Artists often visit classes, give public lectures, hold workshops, participate in panels, meet with faculty members, and show excerpts of their work during their time on campus. Many classes use performance attendance much like an assigned reading on their syllabus.
To help faculty and staff make connections between Hancher's performances and UI courses and programs, we've created a handy guide called Hancher Links. Using the university's GE CLAS Core as a framework, we've categorized our performances into groups with shared themes or disciplines.
Top: Ragamala Dance works with UI Dance students in 2014
Bottom: Matt Ray (left) and Taylor Mac (center) talk to UI Theatre students, led by professor Kim Marra (right) in 2015
Photos by Whitney Marcella Wright and Miriam Alarcón Avila