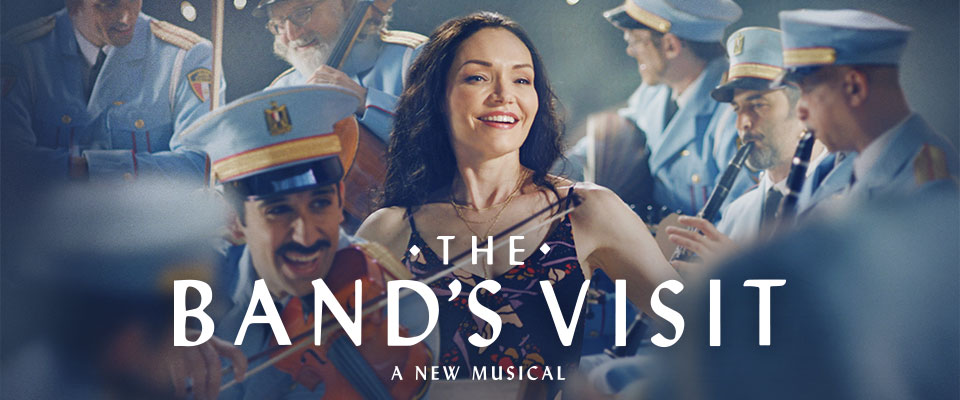 Tickets
ADULTS: $59 / $69 / $79
COLLEGE STUDENTS: $30 / $40 / $50
YOUTH: $59 / $69 / $79
The winner of the 2018 Tony Award winner for Best Musical (along with nine additional Tonys), The Band's Visit is set in a town way off the beaten path where a band of musicians arrive lost, out of the blue. Under the spell of the desert sky, the band brings the town to life in unexpected and tantalizing ways.

The performance on Thursday, April 7 at 7:30 pm will feature an American Sign Language interpreter and audio description.
Related article: In The Band's Visit, Playwright Itamar Moses Helps Strangers Tell The Truth
Preorder food from the Stanley Café!
Avoid the lines by making your food selections before you come to Hancher Auditorium. The Stanley Café will have staff members ready to get your order—including beverages you order when you pick up your food–fast! Orders will be accepted up to 12 p.m. the day before the event.
EVENT PARTNERS
John and Carrie Bernat
Peggy Doerge
Tim and Sarah Krumm
Greg and Meredith Lamb
Little Village
Arthur and Ginger Nowak
Rhoda Vernon
Running Time: 95 minutes (no intermission)
Individuals with disabilities are encouraged to attend all University of Iowa sponsored events. If you are a person with a disability who requires a reasonable accommodation in order to participate in this program, please contact Paris Sissel in advance at (319) 467-4849 or at paris-sissel@uiowa.edu.