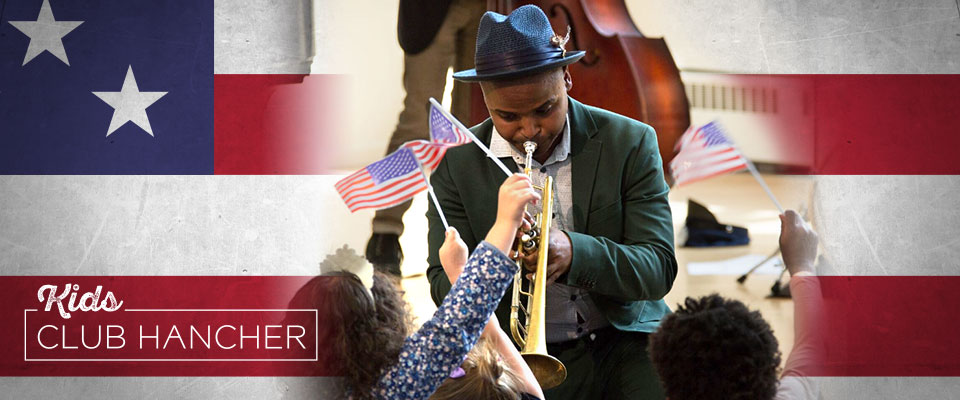 Kids Club Hancher: Jazz at Lincoln Center Quintet
Tickets
ADULTS: $25
COLLEGE STUDENTS: $10
YOUTH: $10
It's time to get the kids to the club for a celebration of America's music that highlights its connection to American democracy. The musicians of Jazz at Lincoln Center will get your kids excited about the music—and excited about pushing America ever-forward.
Related event: Club Hancher: Jazz at Lincoln Center Quintet, "Let Freedom Swing"
EVENT PARTNERS
Barrie Anderson
Carolyn Brown and Jerry Zimmermann
Cedar Rapids Bank & Trust
Brent Hadder
Hills Bank and Trust Company
Cassim and Julie Igram
William and Susan Jones
Gayle and Roger Klouda
Valdean and Lois Lembke
Mark and Fran Lundy
Mary Mixdorf
Jerry and Judy Musser
Michael W. O'Hara and Jane Engeldinger
Robert Oppliger
Chuck Peters
Mary Ann Peters
Chad and Erica Reimers
Richard and Vicki Siefers
Tallgrass Business Resources
Individuals with disabilities are encouraged to attend all University of Iowa sponsored events. If you are a person with a disability who requires a reasonable accommodation in order to participate in this program, please contact Hancher in advance at (319) 335-1160.