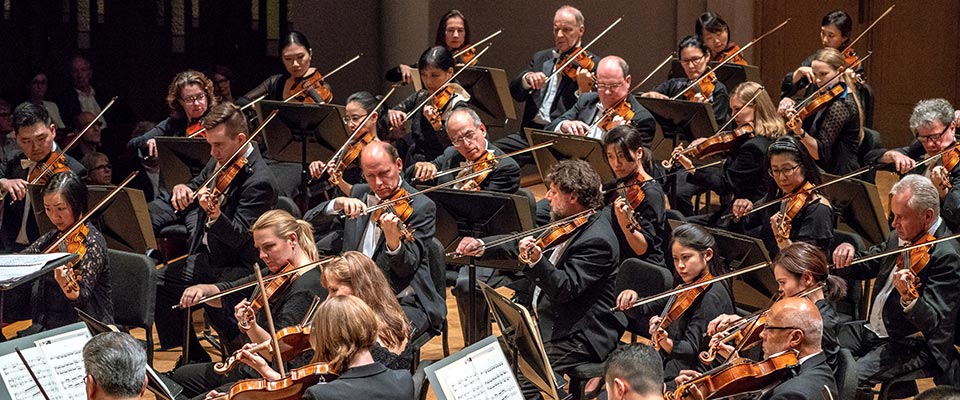 The Philadelphia Orchestra
Nathalie Stutzmann, principal guest conductor
David Kim, violin
Tickets
ADULTS: $75 / $95 / $110
COLLEGE STUDENTS: $37 / $47 / $55
YOUTH: $37 / $47 / $55
The Philadelphia Orchestra is among the world's preeminent ensembles—and a Hancher favorite as well. The orchestra returns to perform Max Bruch's beloved Violin Concerto No. 1 as well as Franz Schubert's final symphony, a masterwork that lives up to its moniker, The Great.

Program (subject to change)
Missy Mazzoli: Sinfonia (for Orbiting Spheres)
Bruch: Violin Concerto No. 1 in G Minor, Op. 26
Schubert: Symphony No. 9 in C Major
Preorder food from the Stanley Café!
Avoid the lines by making your food selections before you come to Hancher Auditorium. The Stanley Café will have staff members ready to get your order—including beverages you order when you pick up your food–fast! Orders will be accepted up to 12 p.m. the day before the event.
EVENT PARTNERS
Bill and Fran Albrecht
Mace and Kay Braverman
Alicia Brown-Matthes
Pat Gauron
Daryl K. and Nancy J. Granner
George A. and Barbara J. Grilley
Leonard and Marlene Hadley
Robert J. and Sue B. Latham
Bryan and Jan Lawler
Pelli Clarke & Partners
David and Noreen Revier
Bill Rubright in loving memory of Karen G. Rubright
Kristin E. Summerwill
W. Richard and Joyce Summerwill
Alan and Liz Swanson
Stephen and Victoria West
Candace Wiebener
Running time: 1 hour 50 minutes
Individuals with disabilities are encouraged to attend all University of Iowa sponsored events. If you are a person with a disability who requires a reasonable accommodation in order to participate in this program, please contact Hancher in advance at (319) 335-1160.