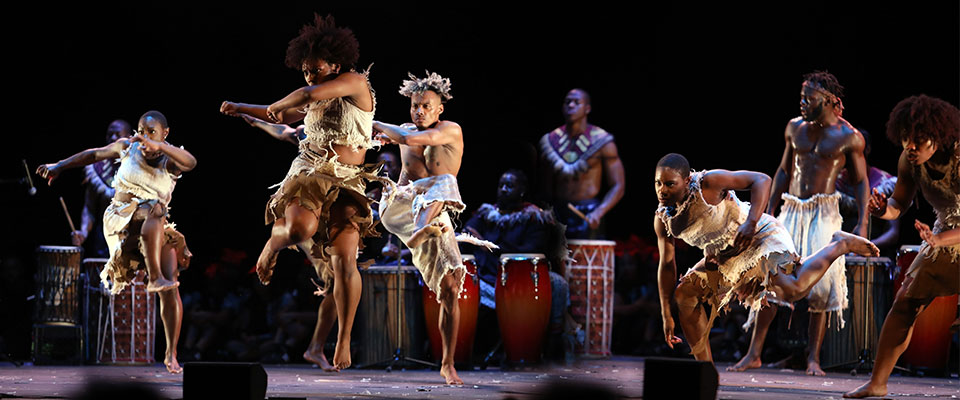 Tickets
ADULTS: $30 / $40 / $50
COLLEGE STUDENTS: $10 / $10 / $45
YOUTH: $10 / $10 / $25
A HANCHER CO-COMMISSION
Step Afrika! returns with a tale of resistance, resilience, and reclamation. Grounded in the Stono Rebellion of 1739, which led to the banning of drums among enslaved Africans, Drumfolk celebrates the beat entering the very bodies of persecuted people. When the heartbeat replaces the drumbeat, the people become the drumfolk.
There will be a post-performance discussion with Step Afrika!
---
Founder's Note
I am extremely excited to introduce Drumfolk, a new work by Step Afrika! that chronicles and celebrates the African-American experience in America.  Grounded in extensive research and over 25 years of percussive practice, Drumfolk reveals hidden and transformative events that greatly impacted American life, and the work explores the drum as an instrument of community, resilience, and determination.
The Stono Rebellion of 1739, a revolt initiated by 20 enslaved Africans in the then-British colony of South Carolina, is one of the largest rebellions organized by Africans in the "New World."  Africans–20 Angolans in fact–used their drums as a call for action, leading a fight for freedom that would spark fear throughout the colonies.
The subsequent Negro Act of 1740, a legislative response to the rebellion, singled out the drum as an illegal weapon and greatly restricted Africans' rights to read, to gather in groups, to wear clothing "above their stature," and to use their drums.
Who were these American activists? Are they early examples of American protest, speaking out against tyranny, oppression, and systemic racism?  Why haven't we learned more about their fight against injustice years before American colonists revolted against Imperialist England at the Boston Tea Party?
Drumfolk is Step Afrika!'s intention to reclaim the history of these unsung American heroes and heroines who so bravely fought for freedom.  There is still so much of American history to explore and uncover…and we welcome you on this journey.
C. Brian Williams
September, 2021
---
EVENT PARTNERS
Dale and Linda Baker
Wendy H. Carter and Don Heistad
Michael S. and Renee Favo
Ed and Patricia Folsom
Bruce Gantz
Iowa House Hotel
Ed and Ann Lorson

The presentation of Drumfolk was made possible by the New England Foundation for the Arts' National Dance Project, with lead funding from the Doris Duke Charitable Foundation and The Andrew W. Mellon Foundation. The presentation of Drumfolk is also supported by the National Endowment for the Arts.
Residency Events
Open to the Public
Thursday, September 9, 2021, 4:15 pm
Friday, September 10, 2021, 5:30 pm
Individuals with disabilities are encouraged to attend all University of Iowa sponsored events. If you are a person with a disability who requires a reasonable accommodation in order to participate in this program, please contact Hancher in advance at (319) 335-1158.