Anonymous Creature (2009)
El Anatsui (b. 1944, Ghana)
Found aluminum and copper wire
West African sculptor El Anatsui is one of the most admired artists in the world today. In May 2015, he was awarded the Golden Lion for Lifetime Achievement by the Venice Biennale. The award—one of the most prestigious in the art world—acknowledges his international success and his influence on two generations of artists in West Africa.
---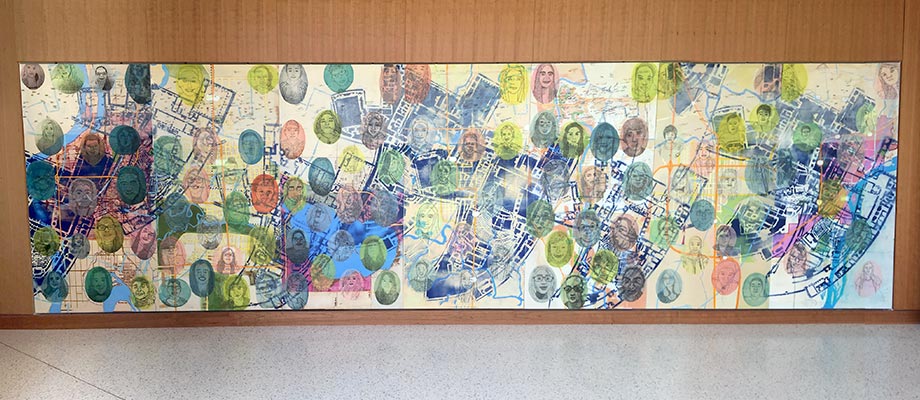 We All Perform (2016)
Anita Jung and seventh-graders across Iowa
Anita Jung, a professor in the University of Iowa's School of Art & Art History, collaborated with seventh-grade students in Algona, Council Bluffs, Iowa City, Maquoketa, Muscatine, Spencer, and Storm Lake to create a work of art centered around notions of performance. Students took selfies and then transformed them with text. Jung selected a number of the altered selfies to incorporate into We All Perform.
---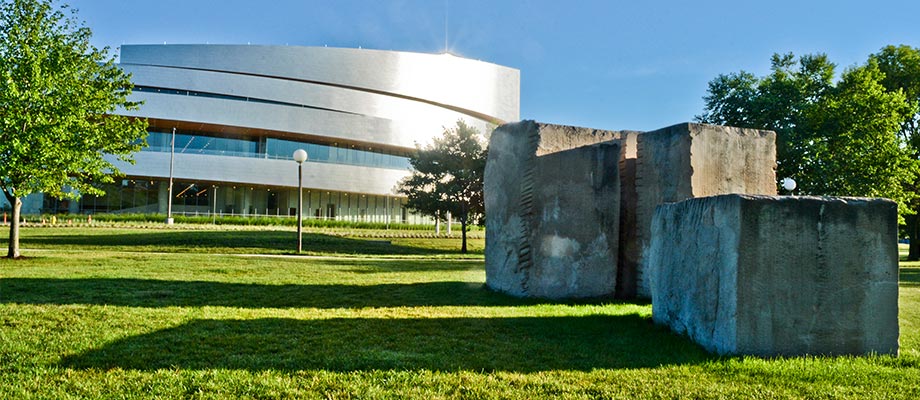 Untitled (1976)
Luther Utterback (1948–1997)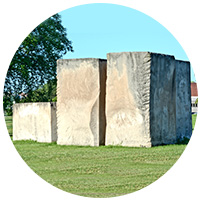 Indiana limestone
Luther Utterback, University of Iowa student (BFA in 1970, MA in 1972, and MFA in 1973), created Untitled in 1976 after Wallace Tomasini, professor and former director of the UI School of Art and Art History, directed a competition for the piece. The four blocks of stone were cut at Reed Quarries near Bloomington, Indiana, weighing approximately 40 tons apiece, and transported to Iowa City by railroad and truck. Utterback supervised the placement of each stone with abundant attention to detail; measurements and angles were checked and rechecked, stones were positioned and repositioned. Utterback's intention with Untitled is the piece will change in appearance as the limestone and its new environment "adjust" to each other. In April of 2013, Utterback's sculpture was relocated on the grounds for a new Hancher Auditorium.