Anonymous Creature (2009)
El Anatsui (b. 1944, Ghana)
Found aluminum and copper wire
West African sculptor El Anatsui is one of the most admired artists in the world today. In May 2015, he was awarded the Golden Lion for Lifetime Achievement by the Venice Biennale. The award—one of the most prestigious in the art world—acknowledges his international success and his influence on two generations of artists in West Africa.
---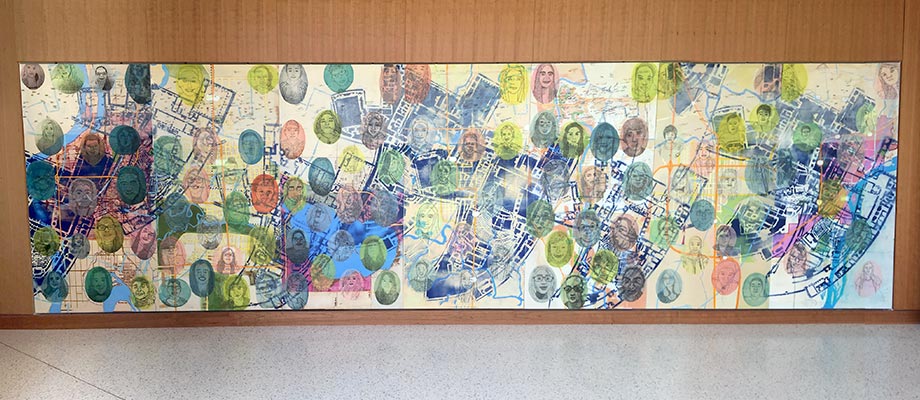 We All Perform (2016)
Anita Jung and seventh-graders across Iowa
Anita Jung, a professor in the University of Iowa's School of Art & Art History, collaborated with seventh-grade students in Algona, Council Bluffs, Iowa City, Maquoketa, Muscatine, Spencer, and Storm Lake to create a work of art centered around notions of performance. Students took selfies and then transformed them with text. Jung selected a number of the altered selfies to incorporate into We All Perform.
---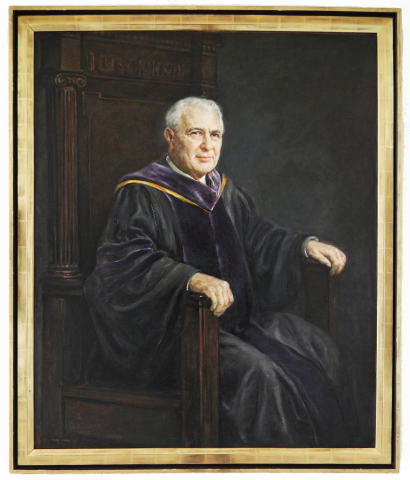 Portrait of Virgil M. Hancher (1965)
Cloy P. Kent (1917–2004)
President Hancher asked Mrs. Kent to paint his portrait just before he and Mrs. Hancher left for New Delhi, India, in August 1964. Photographs of progress on the painting were sent to him from time to time for his approval. The portrait was completed just four days before Hancher died in India on January 30, 1965, and received its first public showing immediately following the university's memorial service for Hancher on February 7, 1965. The portrait depicts President Hancher in academic apparel, seated in the massive carved chair which he used at his inauguration in 1941 and at commencement exercises throughout the 23 years and eight months he was president (1940–1964).
---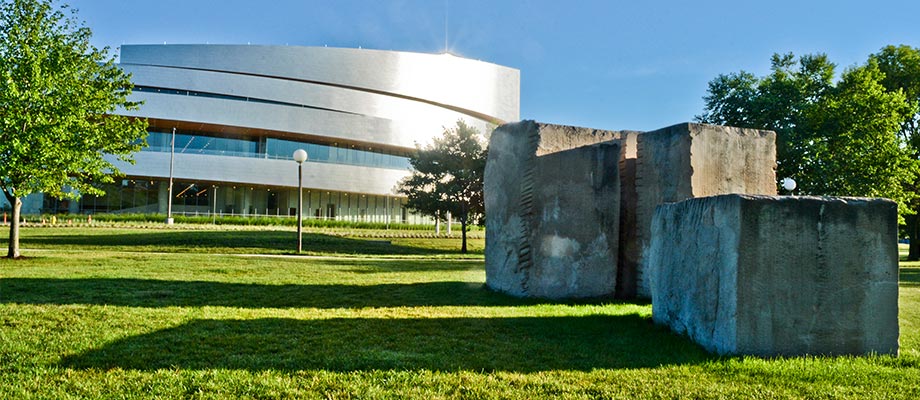 Untitled (1976)
Luther Utterback (1948–1997)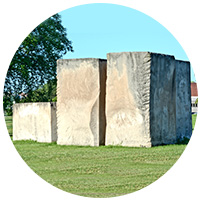 Indiana limestone
Luther Utterback, University of Iowa student (BFA in 1970, MA in 1972, and MFA in 1973), created Untitled in 1976 after Wallace Tomasini, professor and former director of the UI School of Art and Art History, directed a competition for the piece. The four blocks of stone were cut at Reed Quarries near Bloomington, Indiana, weighing approximately 40 tons apiece, and transported to Iowa City by railroad and truck. Utterback supervised the placement of each stone with abundant attention to detail; measurements and angles were checked and rechecked, stones were positioned and repositioned. Utterback's intention with Untitled is the piece will change in appearance as the limestone and its new environment "adjust" to each other. In April of 2013, Utterback's sculpture was relocated on the grounds for a new Hancher Auditorium.
---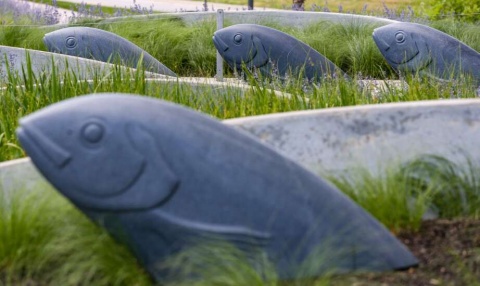 Wellspring (2020)
Colette Hosmer (b. 1946)
Photo: Andy Abeyta, The Gazette

Colette Hosmer is an internationally renowned sculptor who creates and resides in Santa Fe, New Mexico. She is a contemporary naturalist who is celebrated globally for her monumental outdoor sculptures and site-specific work utilizing organic materials.

Wellspring is an outdoor, granite sculpture composed of 30 fish. The sculpture was unveiled on September 25, 2020, and the piece represents the creativity of Iowa City residents and how Hancher Auditorium and other forms of art overflow into the city and community.

Through the Iowa Youth Writing Project and the Iowa City Community School District Foundation, hundreds of third-grade students—in 28 classrooms at 25 schools in 8 cities and towns across Iowa—were assigned to give a fish a name and write an original story about their fish. Wellspring: An Anthology of Inspired Student Writing will be published later in 2021.

Inspired by Wellspring, writer Tess Weaver and artist Jennifer Black Reinhardt created Fishtastic! A Tale of Magic and Friendship. This lovely children's book may be ordered online from University of Iowa Press.