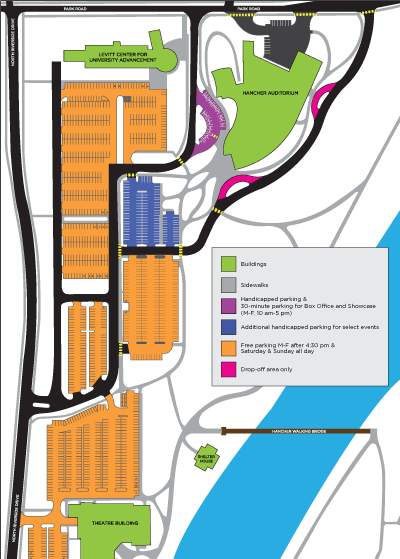 Complimentary parking is available in the southside parking lot (Lot 55) for Hancher's evening and weekend events on a first-come, first-served basis. Due to numerous facilities located in the area, traffic and parking congestion may occur, especially at Broadway shows and popular events. Arrive early and allow ample time to be seated for a performance. Patrons who arrive after curtain time may be admitted to an observation booth and are seated in the auditorium at an appropriate break in the performance as determined by the artist.
View a detailed parking map
 
The Iowa City Gateway Project—a partnership led by the City of Iowa City in cooperation with the Iowa Department of Transportation, the Federal Highway Administration, and U.S. Economic Development Administration—will significantly impact travel to and from the University of Iowa campus until late in the summer of 2018. 
As you make you plans to visit Hancher, we encourage you to review the information available here and to adjust your travel plans accordingly.