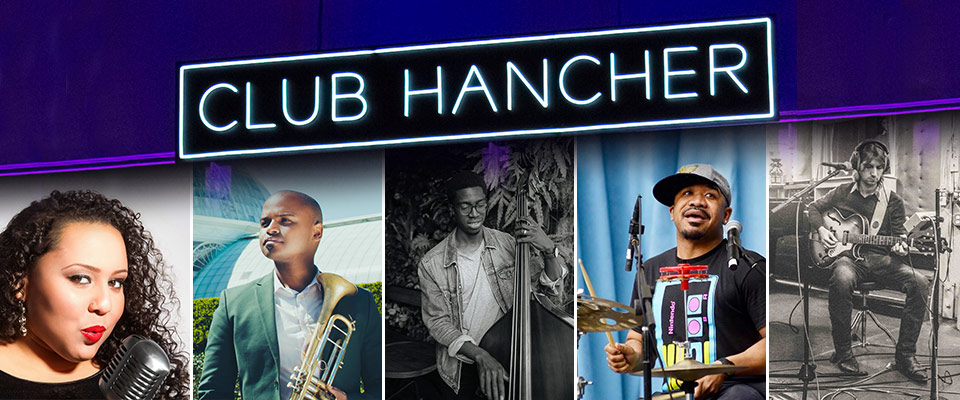 Club Hancher: Jazz at Lincoln Center Quintet
Tickets
ADULTS: $25 (6:30 show) / $15 (8:30 show)
COLLEGE STUDENTS: $10 (both shows)
YOUTH: $10 (both shows)
Thursday, November 18, 2021, 6:30 pm
Thursday, November 18, 2021, 8:30 pm
Friday, November 19, 2021, 8:30 pm
Hancher's robust relationship with Jazz at Lincoln Center continues with a Club Hancher performance as well as a Kids Club Hancher event this season. First up: Hear top-flight jazz musicians in a club setting—the perfect spot for a swinging night of the sound of America.
Featuring Brianna Thomas (vocals), Alphonso Horne (trumpet), Corbin Jones (bass), Norman Edwards (drums), and Justin Poindexter (guitar).
Preorder food from the Stanley Café!
Avoid the lines by making your food selections before you come to Hancher Auditorium. The Stanley Café will have staff members ready to get your order—including beverages you order when you pick up your food–fast!
EVENT PARTNERS
Barrie Anderson
Carolyn Brown and Jerry Zimmermann
Cedar Rapids Bank & Trust
Brent Hadder
Hills Bank and Trust Company
Cassim and Julie Igram
William and Susan Jones
Gayle and Roger Klouda
Valdean and Lois Lembke
Mark and Fran Lundy
Mary Mixdorf
Jerry and Judy Musser
Michael W. O'Hara and Jane Engeldinger
Robert Oppliger
Chuck Peters
Mary Ann Peters
Chad and Erica Reimers
Richard and Vicki Siefers
Tallgrass Business Resources
This engagement is supported by the Arts Midwest Touring Fund, a program of Arts Midwest that is funded by the National Endowment for the Arts, with additional contributions from Arts Midwest and the Crane Group.
Residency Events
Open to the Public
Wednesday, November 17, 2021, 7:00 pm
Individuals with disabilities are encouraged to attend all University of Iowa sponsored events. If you are a person with a disability who requires a reasonable accommodation in order to participate in this program, please contact Hancher in advance at (319) 335-1160.