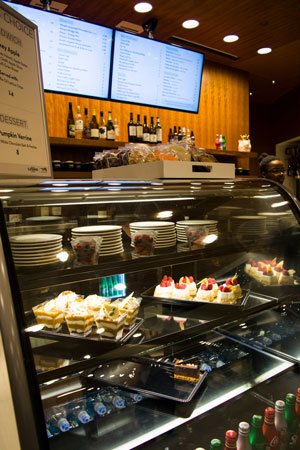 The Stanley Café is located on the second floor of Hancher Auditorium and is operated by University Catering.
Offering a variety of food and beverages, the Stanley Café is open prior to Hancher performances, at intermission, and immediately following performances.
During the University of Iowa academic year, the Stanley Café is open for Thursday Nights at Hancher, held most Thursdays from 5:00 to 7:30 pm. There will be no Thursday Nights at Hancher until August 24.
Credit and debit cards (Visa, Discover, and MasterCard) may be used for purchases at the Stanley Café; American Express and cash are not accepted.
Click on the link below to view the menus. Note that not all menu items are available at all times. 
Café and Bar Menu