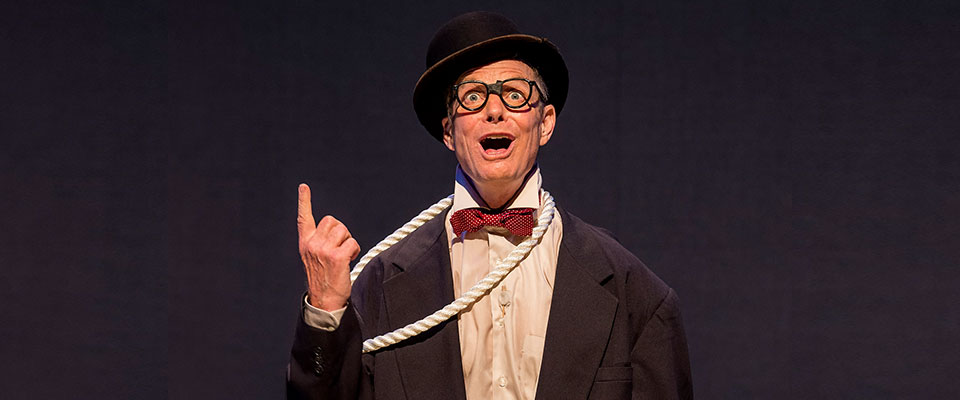 Tickets
ADULTS: $25 / $35 / $45
COLLEGE STUDENTS: $10 / $10 / $40
YOUTH: $10 / $10 / $22
Friday, November 5, 2021, 7:30 pm
Beloved clown and Tony award-winner Bill Irwin applies his sensibility to the words of Samuel Beckett. "What this evening is," Irwin explains, "is my attempt to share with an audience the place that these writings occupy inside of me. These stretches of language have stayed in my head a long time."
Irwin just can't escape Samuel Beckett. He has spent a lifetime captivated by the Irish writer's language. In this intimate 90-minute evening, Irwin will explore a performer's relationship to Beckett, mining his deep and broad physical and verbal skills. His approach to the comic, the tragic, to every side of Beckett's work – including Waiting for Godot, Texts for Nothing, and more – invites you to experience the language in compelling new ways. Whether you're encountering the Nobel Prize winner's writing for the first time or building on a body of Beckett knowledge, this dynamic showcase is not to be missed.
EVENT PARTNERS
Jack and Nancy Evans
Miriam Gilbert
Individuals with disabilities are encouraged to attend all University of Iowa sponsored events. If you are a person with a disability who requires a reasonable accommodation in order to participate in this program, please contact Hancher in advance at (319) 335-1160.