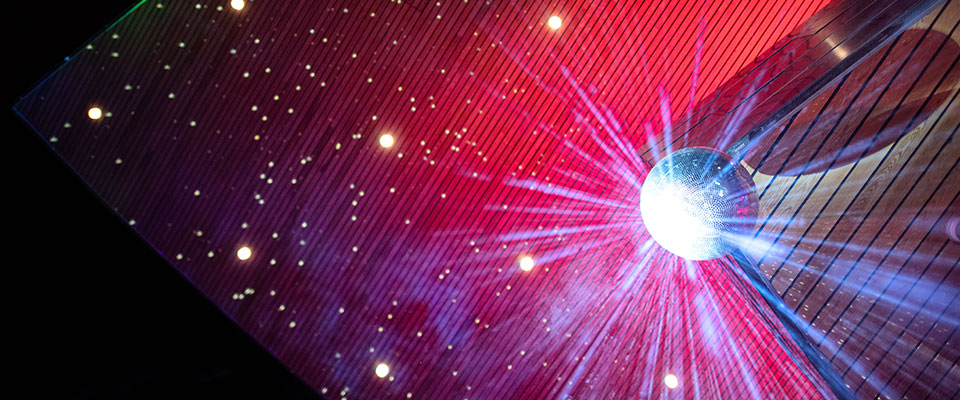 Photo:
Justin Torner/University of Iowa
Tickets
ADULTS: $10
COLLEGE STUDENTS: $5
YOUTH: $5
Our only regret about the first edition of Hancher Illuminated in 2020 was that we couldn't share it with more people. Now we can! Our friends from Quixotic return to light up the exterior of Hancher and create beautiful spaces for captivating performances.
Tickets can be purchased online until 6:30 pm today (Saturday, August 28). Any remaining tickets will be sold at the event beginning at 8:00 pm. Cash is preferred.
EVENT PARTNERS
Wendy and Greg Dunn
James P. Hayes
Arnold and Darcy Honick
Terry and Jone Johnson
OPN Architects, Inc.
News
Some sites may require subscription

The Gazette -
Thursday, August 26, 2021
Kansas City's Quixotic will light up landmark building with sight and sound explosion viewed outdoors.

Daily Iowan -
Monday, August 23, 2021
Hancher Illuminated utilizes an outdoor performance space, innovative lighting, and the UI dance department to create a unique community event. This Friday, UI students can attend "student night" for a discounted price.
Individuals with disabilities are encouraged to attend all University of Iowa sponsored events. If you are a person with a disability who requires a reasonable accommodation in order to participate in this program, please contact Paris Sissel in advance at (319) 467-4849 or at paris-sissel@uiowa.edu.