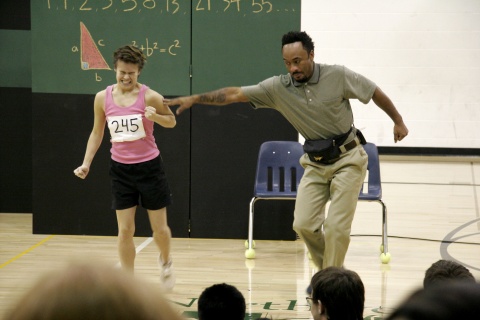 Hancher has a history of presenting artists in performances and educational setting throughout Iowa. In support of the University of Iowa's mission to serve the state of Iowa, a number of Hancher artists visit communities outside of Iowa City each year. 
Past residencies have engaged countless students, educators, and community members across the state. In 2014-15, as part of their research for All Recipes Are Home, Working Group Theatre conducted public engagement activities in Decorah, Grinnell, and Iowa City. Chilean band Inti-Illimani was in residence in Maquoketa, Okoboji, and Iowa City during their week-long visit to Iowa in May 2015. During the 2015-16 season, illusionist and educator Kevin Spencer visited schools in Maquoketa, Spencer, Algona, Iowa City, and Muscatine.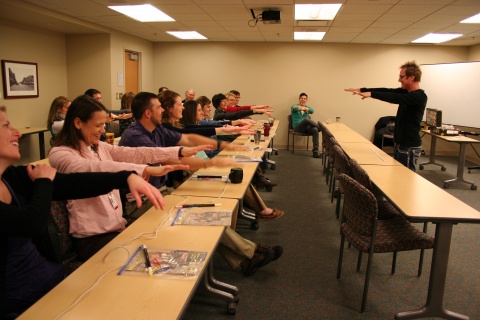 Top: Out of Bounds, by Working Group Theatre, toured to junior highs around the state. Photo by Whitney Marcella Wright
Bottom: Kevin Spencer leads a continuing education workshop at Spencer Municipal Hospital in Spencer, Iowa.