Hancher has been serving the people of Iowa—and artists from around the world—since 1972. Hancher performances and residencies touch lives on campus, in the community, and across the state.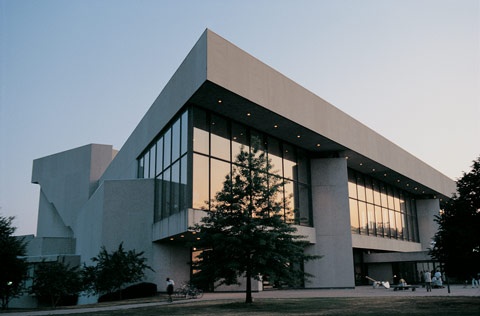 History
The original Hancher Auditorium opened in 1972, hosting world-class artists from the very beginning. The auditorium was also home to a wide array of University of Iowa student performances as well as community events, commencements, and more. Over the years, Hancher earned an international reputation as a commissioner of new work in a number of artistic disciplines.
In 2008, the auditorium was closed by flooding. Following the closing of the auditorium, Hancher continued to present artists in a variety of venues while redoubling its commitment to robust residency activities and statewide impact.
Hancher's new facility, designed by architect Cesar Pelli, opened its doors to the public on September 9, 2016.
Impact
Hancher is committed to enriching the lives of every Iowan through transformative artistic experiences. That commitment is demonstrated each time a world-class artist takes to the stage to connect with an audience.
But Hancher's impact extends far beyond that. The organization connects artists with students across the campus, with people throughout our community, and with people and organizations across the state. These connections share beauty, reveal truths old and new, provide a safe space to explore challenging issues, unlock creativity, and spread joy.
View the 2021-22 Impact Report
View the 2020-21 Impact Report
View the 2019-20 Impact Report
View the 2018-19 Impact Report
View the 2017-18 Impact Report
View the 2016-17 Impact Report