Photo:
Photo: Helen Shariatmadari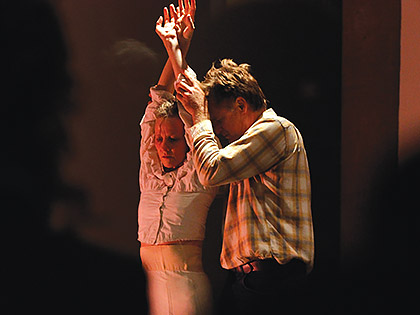 Created and directed by Liz Lerman
Tickets
Nonstudent $40
College student $10
Senior Citizen $36
Youth $10
Thursday, November 13, 2014, 7:30 pm
Friday, November 14, 2014, 7:30 pm
Saturday, November 15, 2014, 7:30 pm
Liz Lerman—among the most innovative and fearless choreographers of our time—investigates healers in the heart of warfare. Grounded in the Civil War but reflecting upon conflicts to the present day, Healing Wars is a multimedia experience featuring an ensemble of dancers and actors.
Healing Wars begins with a performance installation in the backstage area of Space Place Theater. Audience members will enter through the backstage door, walk through the installation at their own pace, and make their way across the stage to their assigned theatre seats. Doors will open at 7:10 pm. Healing Wars is performed without intermission and should end around 9:00 pm. There will be a discussion with the artists after each performance.
Audience Advisory: The production contains brief nudity and atmospheric effects including haze, strobe lights, and simulated explosions.
---
Made possible by the University of Iowa Office of the Vice President for Research and Economic Development, the National Endowment for the Arts, and the Alma Miller Ware Nursing Endowment Fund of the College of Nursing. Additional support from the New England Foundation for the Arts' National Dance Project, with lead funding from the Doris Duke Charitable Foundation and The Andrew W. Mellon Foundation.




Worth Fighting For
Liz Lerman will serve as artist-in-residence for a campus-wide project called Worth Fighting For, which is one of the most ambitious and expansive projects ever undertaken by Hancher. She will visit with some of her company members in September and October before returning for the November performances. The artists will work with students all over campus to use interdisciplinary research methods to create artistic work. The student work will be showcased in a Pop Up Museum at the Library Learning Commons in November. Additionally, there will be multiple public panel discussions with scholars and artists that relate to the themes of Healing Wars.
Read more about it at the Worth Fighting For Blog.
Download the Worth Fighting For booklet with more details about the project.
Download a catalog of the artwork and performances in the Pop Up Museum.
Individuals with disabilities are encouraged to attend all University of Iowa sponsored events. If you are a person with a disability who requires a reasonable accommodation in order to participate in this program, please contact Paris Sissel in advance at (319) 467-4849 or at paris-sissel@uiowa.edu.