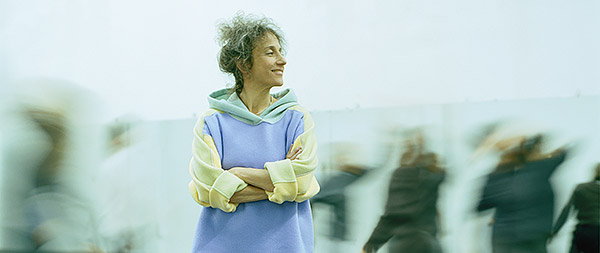 Liz Lerman in rehearsal. Photo by Lise Metzger
Worth Fighting For is a campus-wide exploration of war, healing, and the broad impact of wars both current and historical. The project is inspired by Healing Wars, a groundbreaking new work by Liz Lerman.
As artists in residence during the Fall of 2014, Lerman and members of her company will engage UI students and faculty in a variety of areas to explore interdisciplinary research, the themes of the project, and methods to create art. The project culminates in November with a Pop Up Museum with displays and performances of student work and Hancher's presentation of Healing Wars.
Download the Worth Fighting For booklet with more details about the project. 
Watch this space to read updates on the project and the reflections of the participants from across campus.
---
December 4, 2014
Ariel Francoeur
MFA director
Department of Theatre Arts
---
September 17, 2014
Dr. Diana Fritz Cates
Departmental Chair
Professor, Religious Ethics
---
September 17, 2014
Nina Morrison
MFA director
Department of Theatre Arts