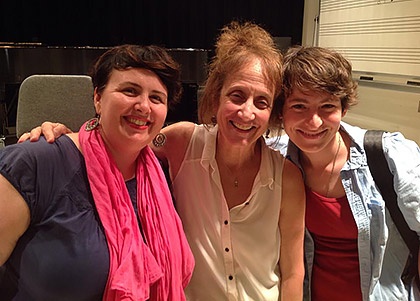 September 17, 2014
Meeting with Liz Lerman was a great lesson in noticing how I use (or don't use) the resources in the room, she looks at interactions and refines the interaction to gather information. For example, I asked for her advice on site specific work, and first she turned the question back to me, asking what I would like as an audience member of site specific work. Then she asked the group if they had experiences or ideas about how they would like to experience site specific work, and she would follow up their answers with more leading questions. I realized I was watching her lead a collaboration. I left with so many ideas about how to use the space with the audience experience in mind. Looking at that moment now, it seems so simple, but it was so exciting to have a system revealed to me and know that I could do this all the time, refine interactions to gather data, allow myself to be led down other paths, to be surprised, anything can become a collaboration. I loved that she didn't answer my question, she showed me how she would get the answer to my question.
 
Another huge revelation from our meeting was when she led us through a "thinking grid" wherein we broke our concepts down into separate parts onto a grid.  We looked at how ideas and ways of seeing that may have seemed unrelated could actually inform each other and strengthen the work.  This was the pattern of her whole visit, she would say something that seemed very simple and then I would realize that it changed my whole way of seeing.
Nina Morrison
MFA director
Department of Theatre Arts
Photo: Nina Morrison, Liz Lerman, and MFA playwright Sam Collier. Photo by Tlaloc Rivas.