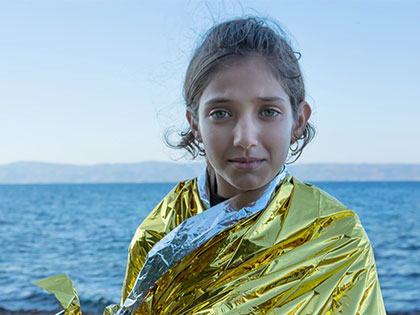 Q&A with the Creative Team behind "Iphigenia Point Blank: Story of the First Refugee"
Monday, November 5, 2018,

7:00 pm

to

8:00 pm
For our second installment of the 2018/19 Hancher @ the Pentacrest Museums Series, join Iphigenia Point Blank: Story of the First Refugee, A Film Opera collaborators Lisa Schlesinger (playwright), Marion Schoevaert (director), Kinan Azmeh (composer), George de la Pena (choreographer), and Layale Chaker (violinist), for a conversation about their project, which will premiere in the UI Theatre Building this November. The work is adapted from Euripides' Iphigenia plays and ancient Greek laments from the Trojan War epics, and will be presented as part of Hancher's Embracing Complexity project, which takes a multidisciplinary and collaborative approach to building understanding of contemporary Islamic cultures and Muslim identity. The play follows Iphigenia, the first refugee depicted in western drama, through 2,500 years of history and across contemporary war zones to interrogate the current refugee crisis and change the ending of her story.