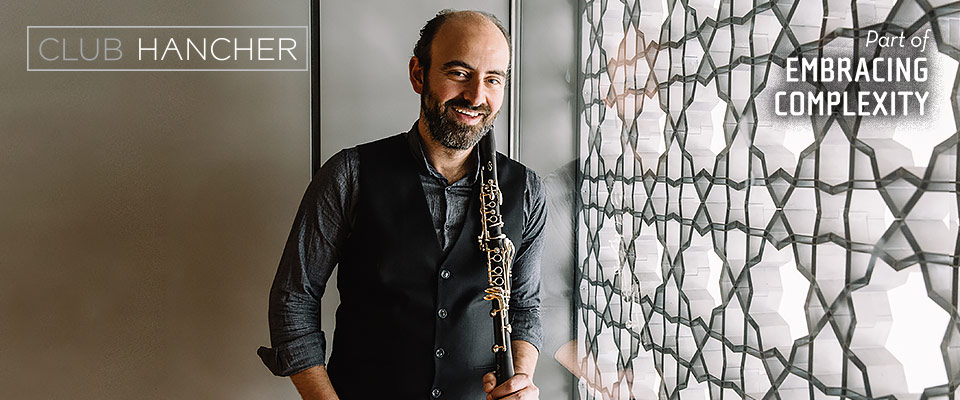 Tickets
ADULT: $25
COLLEGE STUDENT: $10
YOUTH: $10
NOTE DATE CHANGE
Part of Embracing Complexity
Syrian clarinetist Kinan Azmeh bridges cultures, musical styles, and ideas. A virtuoso soloist and improviser, he is also a sought-after composer whose work includes the score for Iphigenia Point Blank: Story of the First Refugee (presented November 1–11 by the University of Iowa Department of Theatre Arts). The CityBand quartet includes guitar, bass, and percussion and explores jazz, classical music, and traditional music of Syria. Azmeh draws deeply from a well of influences, but his sound is purely his own.
New this season! Our partners at University Catering will offer a variety of wonderful food to enjoy during Club Hancher concerts.
Food must be ordered online and in advance at this website. Orders must be completed by noon the day prior to the event. Patrons who have ordered food are encouraged to arrive 30 minutes prior to Club Hancher concerts to pick up their food.

Event Sponsors:
François M. and Doris E. Abboud
Residency Events
Open to the Public
Monday, November 5, 2018, 11:30 am
Monday, November 5, 2018, 1:00 pm
Monday, November 5, 2018, 7:00 pm
Individuals with disabilities are encouraged to attend all University of Iowa sponsored events. If you are a person with a disability who requires a reasonable accommodation in order to participate in this program, please contact Hancher in advance at (319) 335-1160.