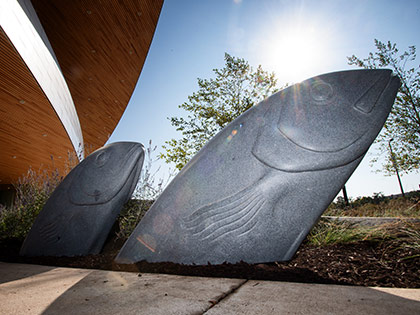 WorldCanvass - Wellspring: The Power of Partnerships
Friday, September 10, 2021,

5:30 pm

to

7:00 pm
This live WorldCanvass event will feature a short performance by Step Afrika! as well as an interview with company founder C. Brian Williams among other festivities.
Hancher will host WorldCanvass on September 10 for an outdoor celebration of community. Iowa City Mayor Bruce Teague will join Chuck Swanson of Hancher, Russell Ganim of International Programs, and a host of performers and artists including Brian Williams of Step Afrika! and sculptor Colette Hosmer in an exploration of the power of partnerships to enrich and enliven community life. 
Wellspring: The Power of Partnerships begins at 5:30 p.m. and ends at 7 p.m. and is free and open to the public.  As the program will be held outside, attendees are encouraged to bring chairs and refreshments.  Masks are encouraged.  Free parking will be available in the Hancher parking lot.  Attend in person, join by Zoom, or watch on Facebook Live.  
The event will officially introduce the 30 granite fish that have been installed in the grassy expanse near the entrance to Hancher.  The fish are the central element of Hancher's Wellspring project.  Conceived in America and made in China, the fish now live near the banks of the Iowa River and speak to the connective power of art. We'll talk with sculptor Colette Hosmer and Fishtastic! author Tess Weaver (Terri Gullickson) and hear how area school children became involved in making the fish feel at home.  The fish installation will be celebrated in performances by Chinese dance and choral groups as well as the UI School of Music's drum ensemble.
Hancher's long dedication to partnerships that build community continues with Step Afrika! The driving rhythms and brilliant artistry of the dancers in Step Afrika! thrilled Iowa audiences during their recent appearance, so much so that Hancher invited Step Afrika! to participate in a week-long residency prior to this year's Hancher performance on September 11. Hear a conversation between Brian Williams of Step Afrika!, Mayor Teague, and Hancher director Swanson before a special performance by Step Afrika! and the Oak Hill Elementary School Marimba Players from Clear Creek Amana.