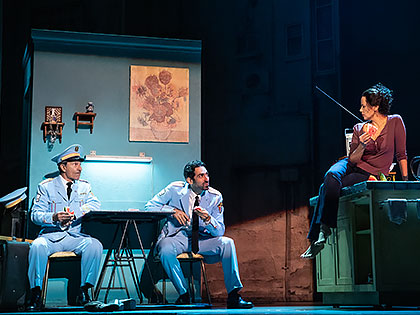 By Mark Blankenship
Sometimes, you can only be honest with strangers. "It's much safer to talk about things with someone you don't know and will never see again," says playwright Itamar Moses. "They don't know the story you've built up around yourself."
That curious freedom shapes The Band's Visit, the new Broadway musical about a group of Egyptian musicians who get lost on their way to a concert in Israel. Stranded in a small town, they pass the time with the locals, eating at their tables and sleeping in their spare rooms.
To Moses, who wrote the musical's book, that's a perfect catalyst for drama. "Everything that happens is only possible because these two groups of people don't know each other," he says.
Take Iris, an Israeli wife and mother who finds her own birthday party crashed by musicians her husband brings home. After years of mute frustration with her marriage, she suddenly reveals everything. "The eyes of these strangers on her life make it impossible to ignore what she's been trying to suppress," Moses says.
The same is true for characters who confess their dreams, regrets, and loves. Ironically, they may be even more honest with each other because they don't share a language. The Egyptians speak Arabic and the Israelis speak Hebrew, but when they talk to each other, they use halting, tentative English.
"When you don't have unlimited language as a tool, you really have to get to the point right away," Moses says. "People aren't going to talk around the truth, because they don't have the words."
Naturally, that limited vocabulary affected Moses' playwriting. "But I never lamented it as a limitation," he says.  "I really enjoyed the tension between the simplicity of the language and the depth of the emotion. Sometimes there's nothing better than having a constraint."
Pictured: Sasson Gabay, Joe Joseph, Janet Dacal in The Band's Visit. Photo by Evan Zimmerman, MurphyMade