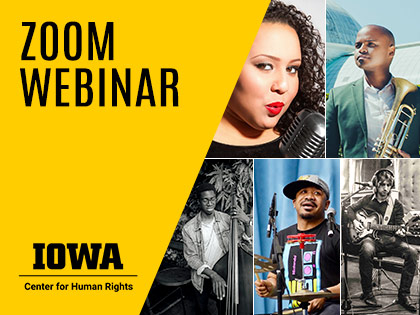 Zoom Webinar with Jazz at Lincoln Center Quintet
Wednesday, November 17, 2021, 7:00 pm
The Club Hancher performances by the Jazz at Lincoln Center Quintet are sold out—but you can still interact with this outstanding group of musicians!
Join us on Wednesday, November 17, at 7 pm for a Zoom webinar to learn more about Jazz at Lincoln Center's Let Freedom Swing program—and the continued relevance of jazz icons Louis Armstrong and Bessie Smith in the 21st century.
If you loved Seaton Hawkins' Swing University presentations, we are confident you will love this conversation as well!
The event is free and you can join using this link: 
https://uiowa.zoom.us/j/97869311188
This special online event is a collaboration between Hancher and the UI's Center for Human Rights.