Submitted by

zwoodworth

on Tue, 2014-09-23 16:15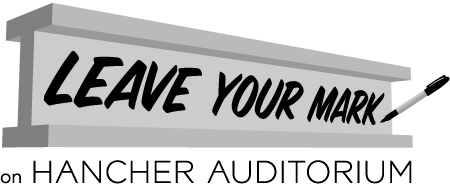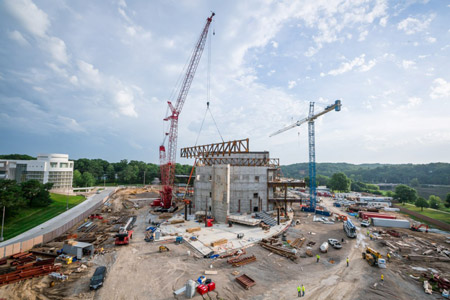 Hancher invites public to 'Leave Your Mark' in beam signing event, ceremony
Signed beam to be put in place at new Hancher Auditorium on October 8
PREVIEW: On October 7 and 8, Hancher is inviting members of the public to sign a steel beam that will then be lifted into place in the organization's new facility.
Construction at the new Hancher Auditorium is approaching the halfway point, a significant milestone in the creation of a new home for the performing arts on the University of Iowa campus. To celebrate, Hancher and Mortenson Construction invite the public to sign a beam that will be placed into the structure. The "Leave Your Mark" event, which will also include a public ceremony featuring singer/songwriter Susan Werner, will take place October 7 and 8.
The beam will be available for signing near the south end of the new entrance driveway that runs from Park Road between the Levitt Center and the new Hancher facility. The construction gate at that location will be open to allow the public to sign the beam from noon to 6 p.m. on Tuesday, October 7. Signing will continue on Wednesday, October 8 from 8 to 10 a.m.
At 11 a.m. on October 8, a brief ceremony will take place at the base of a new stairwell that has been constructed between the parking area and the new Hancher location. Members of the public can gather on the hillside at that location to hear remarks and Werner's performance. During the ceremony, the signed beam will be placed in its final position in the southern cantilever of the new Hancher Auditorium.
The public will be able to park at no charge in an area of the Hancher parking lot that will be clearly marked on the days of the event. Accessible parking will be available outside the Levitt Center just inside the new drive as one enters from Park Road.
Download a map of the event site and event parking areas.
Over 1,000 craftworkers have expended nearly 300,000 hours on the Hancher project to date. The Leave Your Mark event honors their work and commitment while allowing the public to note this key moment in the building's construction.
In addition to participating in the Leave Your Mark ceremony, Susan Werner will perform in a Club Hancher event at The Mill on Thursday, October 9, with concerts at 7 and 9:30 p.m. Werner, an Iowa native, will perform songs from The Hayseed Project, which consider issues of agriculture from the artist's wise and witty perspective. Tickets for Werner's performances are available from the Hancher Box Office (335-1160, 800-HANCHER, hancher.uiowa.edu).
Individuals with disabilities are encouraged to attend all University of Iowa-sponsored events. If you are a person with a disability who requires a reasonable accommodation in order to participate in this program, please contact the Hancher Box Office in advance at 319-335-1158.
Thumbnail Image:

Media Date:
Tuesday, September 23, 2014