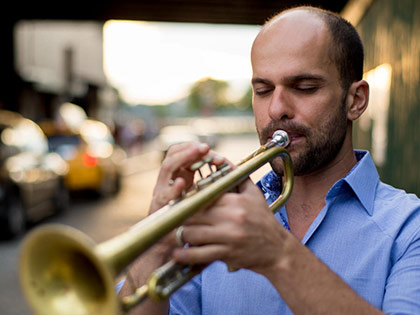 Make Music with Amir ElSaffar - CANCELLED
Monday, February 5, 2018,

6:30 pm

to

7:30 pm
Due to the weather conditions, tonight's "Make Music with Amir ElSaffar" event has been cancelled.

Join trumpeter, santur player, vocalist, and composer, Amir ElSaffar, for an interactive, family-friendly music workshop. ElSaffar, who regularly blends Arabic music and western jazz, will speak about Arabic musical traditions, play samples of Arabic and western music to draw comparisons between the two, and lead the group in a music-making workshop that draws from both traditions.
This event is part of Hancher's Embracing Complexity project, which seeks to build textured knowledge of Islamic cultures, while creating a greater sense of empathy for the experiences of peoples of diverse racial, ethnic, and religious backgrounds. Free and open to all.