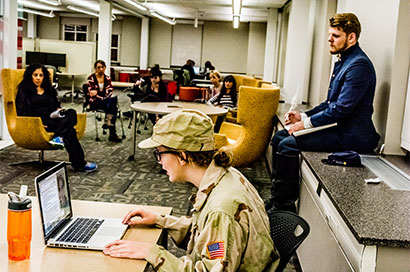 December 4, 2014
As a director my work is pretty tightly controlled, and before working on my Worth Fighting For piece I had never written or devised anything.  Seeing this and all the performances occurring in the midst of unsuspecting audience members, I understood the importance of experimenting with new forms.  We had collectedly created something that changed the day of everyone in the library, and even if they only noticed art happening peripherally, it was enough of a change from everyday life to make a difference.
Ariel Francoeur
MFA director
Department of Theatre Arts
Photo: Theatre students Caitlin Rose Edwards and Jacob Hicks perform in Ariel Francoeur's piece, Connections, in the Worth Fighting For Pop Up Museum at the UI Main Library on November 7, 2014. Photo by Miriam Alarcón Avila.