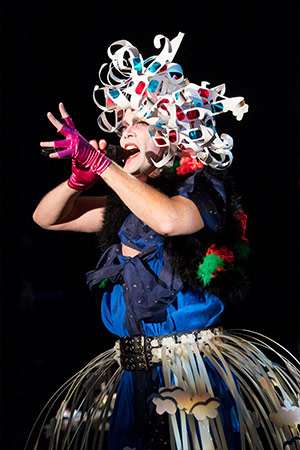 Creative Matters Lecture: Taylor Mac in conversation with Garth Greenwell
Thursday, April 26, 2018, 7:00 pm
A partnership with the UI Office of Research & Economic Development
Taylor Mac "doesn't just defy categorization; he makes the categories themselves seem irrelevant" (Time Out New York). As a playwright, actor, singer-songwriter, and performance artist, Mac has created internationally award-winning performance events that at once provoke and embrace diverse audiences for nearly two decades. Mac's work has been performed at Lincoln Center, Celebrate Brooklyn, London's Hackney Empire (with the LIFT Festival), LA's Royce Hall, San Francisco's Curran Theater, Magic Theater and MOMA, the Sydney Opera House, Minneapolis's Guthrie Theater, Chicago's MCA and Steppenwolf Theater, Stockholm's Sodra Theatern, the Spoleto Festival, and literally hundreds of other theatres, museums, music halls, opera houses, and festivals around the globe.
On April 28 at Hancher Auditorium, he will perform 24-Decade History of Popular Music (Abridged), a subjective history of the past 240 years since America's founding, told through the music of the times.
Garth Greenwell, the author of What Belongs to You, which won the British Book Award for Debut of the Year, will join him on stage as they discuss and demonstrate his creative process.