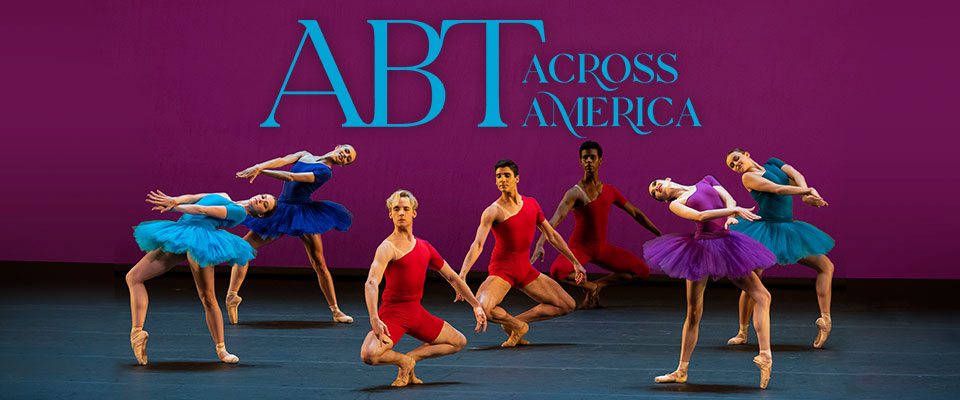 Tickets
Tickets are $5 (plus $5 handling fee per order) and can only be purchased online prior to day of show.
Tickets ordered by June 25 will be mailed. Tickets ordered after June 25 will be available at will call located at the Hancher Green.
Tickets may be purchased day of show beginning at 4 pm for $10 each, cash only.
Gates open at 6:30 pm
The wonderful dancers of American Ballet Theatre are hopping on a bus and touring America—and they'll stop at Hancher on the Fourth of July!
The evening's 50-minute show will be performed without an intermission. Repertory for ABT Across America will feature Lauren Lovette's La Follia Variations, a work for eight dancers set to music by Francesco Geminiani, Jessica Lang's Let Me Sing Forevermore, a pas deux blending ballet and jazz vocabulary set to songs sung by Tony Bennett, Darrell Grand Moultrie's Indestructible Light, a celebration of American jazz, and a classical pas de deux from ABT's extensive repertoire.
Get your tickets now and then gather up your friends and family (and lawn chairs!) for a performance you'll never forget by one of the world's greatest ballet companies.
Residency Events
Open to the Public
Sunday, July 4, 2021, 4:00 pm
News
Some sites may require subscription

The New York Times -
Monday, May 3, 2021
The company will travel from Nebraska to New York City—through 14 states—in six sleeper buses and three production trucks.
Individuals with disabilities are encouraged to attend all University of Iowa sponsored events. If you are a person with a disability who requires a reasonable accommodation in order to participate in this program, please contact Hancher in advance at (319) 335-1158.