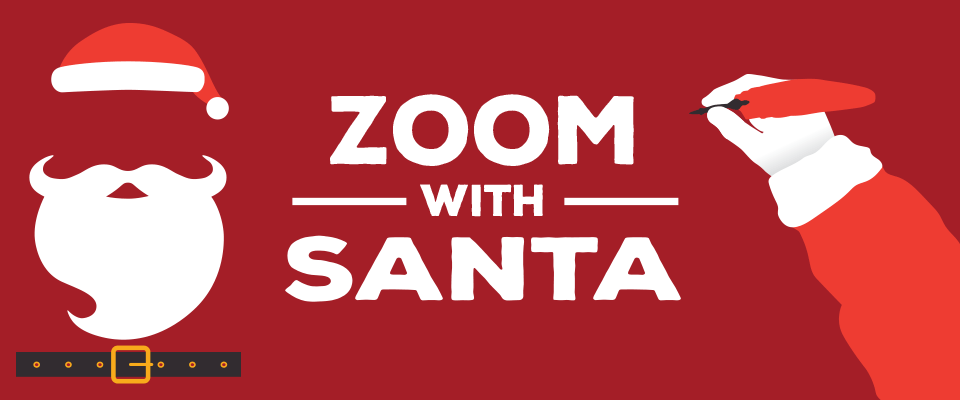 Tickets
$10 per child (Zoom package)
$5 per child (Letter only)
Saturday, December 12, 2020, 10:00 am
Saturday, December 12, 2020, 2:00 pm
Saturday, December 12, 2020, 4:00 pm
Sunday, December 13, 2020, 10:00 am
Sunday, December 13, 2020, 2:00 pm
Sunday, December 13, 2020, 4:00 pm
The man in the big red suit is headed to Hancher again this year, but he knows the importance of social distancing! So, Santa will visit with children via Zoom on Saturday and Sunday, December 12 and 13.
Each session is limited to a total of 25 children.
Tickets are $10 per child. Each child's ticket grants them (and you!) access to the Zoom session to talk with Santa, a do-at-home activity that will be emailed to you, a personalized letter from Santa, and access to Santa's reading of A Visit from St. Nicholas (often referred to as 'Twas the Night Before Christmas) on Christmas Eve.

Can't make it to the Zoom with Santa sessions? You can still make sure your child or grandchild gets a letter from Santa and access to the Christmas Eve reading for just $5 per child. This experience is also limited (we don't want Santa to get a cramp from writing all those letters!), so get your names on Santa's correspondence list right away.
Individuals with disabilities are encouraged to attend all University of Iowa sponsored events. If you are a person with a disability who requires a reasonable accommodation in order to participate in this program, please contact Paris Sissel in advance at (319) 467-4849 or at paris-sissel@uiowa.edu.