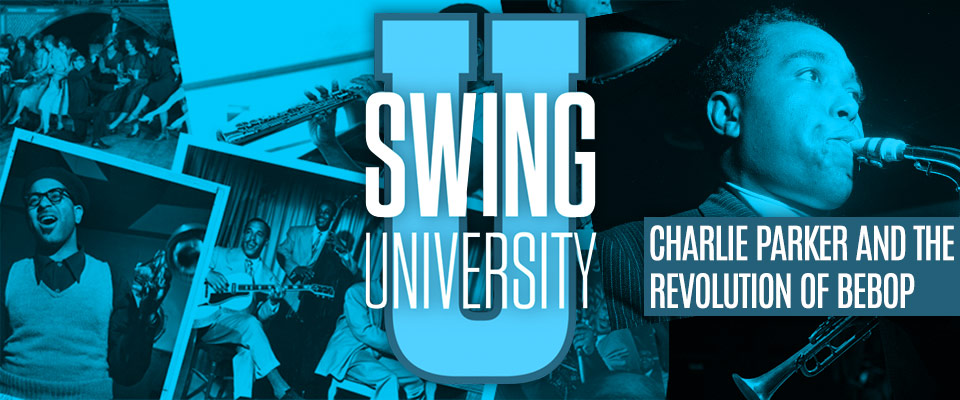 Charlie Parker and the Revolution of BeBop
Part of United We Swing: Jazz and American History
Tickets
Free admission – donations appreciated
The revolution of bebop in the 1940s saw jazz get faster, more virtuosic, and more daring. And no one was more extraordinary than the alto saxophone master Charlie Parker.
Part of the United We Swing: Jazz and American History series presented by Jazz at Lincoln Center.
If you use Spotify, you can listen to a playlist of the music Seton featured in his discussion HERE.

You can also listen through the YouTube playlist on this page; simply click the play button on the video on this page. Or if you want to listen to an individual song, click on a title in Seton's notes below!
Sometimes the hype around an artist is overblown or overly effusive. And sometimes an artist genuinely enacts a musical revolution. Charlie Parker's alto abilities, his invention and innovation of the BeBop style and language meant that in the 1940s, Jazz would fundamentally and permanently change. His genius as an alto saxophonist was and is so pronounced that almost no alto saxophonist exists today who is not heavily indebted to Parker's playing style. Jazz itself, while rarely performing BeBop in its pure form today, works in the legacy of BeBop, with modern styles serving as direct descendants of this language.
Individuals with disabilities are encouraged to attend all University of Iowa sponsored events. If you are a person with a disability who requires a reasonable accommodation in order to participate in this program, please contact Paris Sissel in advance at (319) 467-4849 or at paris-sissel@uiowa.edu.