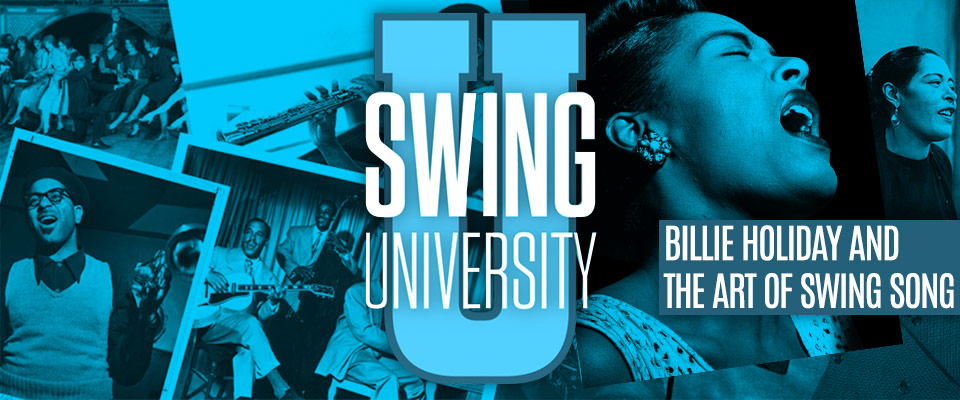 Billie Holiday and the Art of Swing Song
Part of United We Swing: Jazz and American History
Tickets
Free admission – donations appreciated
With the burst of jazz's popularity in the 1930s, Billie Holiday revolutionized singing with small ensemble vocal jazz called Swing Song. Her innovations would provide the blueprint for generations of singers and instrumentalists to come.
Part of the United We Swing: Jazz and American History series presented by Jazz at Lincoln Center.
If you use Spotify, you can listen to a playlist of the music Seton featured in his discussion HERE.
You can also listen through the YouTube playlist on this page; simply click the play button on the video thumbnail on this page. Or if you want to listen to an individual song, click on a title in Seton's notes below!
A master song stylist whose melodic and rhythmic innovations were so profound that we'd struggle to think about 20th and 21st century popular music without her, Billie Holiday stands as one of Jazz's most extraordinary figures. Forging the small ensemble style of Swing Song, Holiday would also stretch into extraordinary risk by embracing the work Strange Fruit right as her career began to hit an upswing. While histories focus on the tragedies of her life, her genius, her artistic mastery, and her strength of character must always be remembered and celebrated.
First Swing Song Recordings – July 2, 1935 
Billie Holiday's breakthrough truly begins in July 1935, when the lucrative jukebox market provides producer John Hammond to oversee a series of small ensemble sessions to try to capitalize on this popular, but lower-budget record option. The choice of Holiday at the time felt like a gamble (indeed, she is not listed as the bandleader on the early sides), but soon paid off.
Billie's Brilliance, Point #1: Rhythmic Phrasing
To listen to Billie Holiday is to hear a masterclass in how to phrase a rhythmic line. Favoring a behind-the-beat rhythmic sense, Holiday also wove an almost conversational patter into her singing, stretching out the melody at points to highlight words, then rapidly (yet effortlessly) catching up. This loose, easy phrasing, combined with a behind-the-beat sense of time (we'll talk about this) gives her music an extraordinarily relaxed and conversational quality. While she often favored ballads, this rhythmic sense can be best heard in her mid-to-uptempo song choices.
Compare "What a Little Moonlight Can Do" (written 1934)
·      Early recording by Violet Loraine from 1934
o   Listen for the stiffness in her delivery, and the resulting corniness of the piece
·      Billie Holiday, rec. July 2, 1935
o   Listen for how Holiday accelerates and decelerates the pacing of the words, particularly the opening line ("ooo, what a little moonlight can do")
o   Listen also for her behind-the-beat phrasing more broadly, and what it does to the overall feel of the piece
Billie's Brilliance, Point #2: Rewriting the Melody
Billie Holiday's voice was relatively limited in the range of notes it could hit. What she did, however, was rewrite melodies of pieces to fit perfectly within that range, and maximize the storytelling effect of the performance. This stands in stark contrast to most pop singers of the 1920s and 1930s, who would sing the song precisely as written. To rewrite and recontextualize a song was in some respects controversial; however, it was also brilliant.
Compare "These Foolish Things" (written 1935)
·      Early recording by Leslie A Hutchinson, 1936
o   "Hutch" (as he was known) was a wonderful singer and pianist, and this reading he gives is fairly faithful to the melody.
·      Billie Holiday, rec. June 30, 1936
Listen to how Holiday's rhythmic sense now combine with her overhaul of the melody to add shading and nuance to the lyrics
Swing Song Recordings We Heard
Café Society and Strange Fruit
Beginning a tenure at the progressive new venue Café Society proved a hallmark in Billie Holiday's career. Shortly into it, Abel Meeropol approached her with a song that would become one of her most iconic masterpieces: Strange Fruit. A haunting depiction of lynching, the piece would be record by Holiday on April 20, 1939 for Commodore Records
Strange Fruit, April 20, 1939
Movie Short - 1934 
Symphony in Black

,

recorded December 1934

In 1934, a then-unknown Holiday recorded with the Duke Ellington Orchestra in a movie short entitled Symphony in Black. The work offers an early glimpse in long-form composition by Ellington, and Holiday's vocals are an amazing addition to the ensemble's sound. She appears in the middle movement A Triangle, and sings within it on "Blues."
Recommended Reading
Billie Holiday by Stuart Nicholson (Northeastern, 1995)
An excellent, well-researched, and even-handed biography of her life that does not sensationalize Holiday's personal life.
If You Can't Be Free, Be a Mystery: In Search of Billie Holiday by Farah Jasmine Griffin (One World, 2002)
Holiday's life is exceedingly difficult to document in a traditional biography. Griffin instead looks at the impact of Holiday in popular music, and explores what she represented then and now.
Lady Sings the Blues by Billie Holiday and William Dufty (Doubleday, 1956)
Ostensibly her autobiography, this book is ghostwritten by journalist William Dufty, who takes extensive liberties to fill in the gaps in Holiday's narrative. The result is an unreliable autobiography from a factual standpoint, but a fascinating look into how Holiday constructed her own image and myth.
Individuals with disabilities are encouraged to attend all University of Iowa sponsored events. If you are a person with a disability who requires a reasonable accommodation in order to participate in this program, please contact Paris Sissel in advance at (319) 467-4849 or at paris-sissel@uiowa.edu.