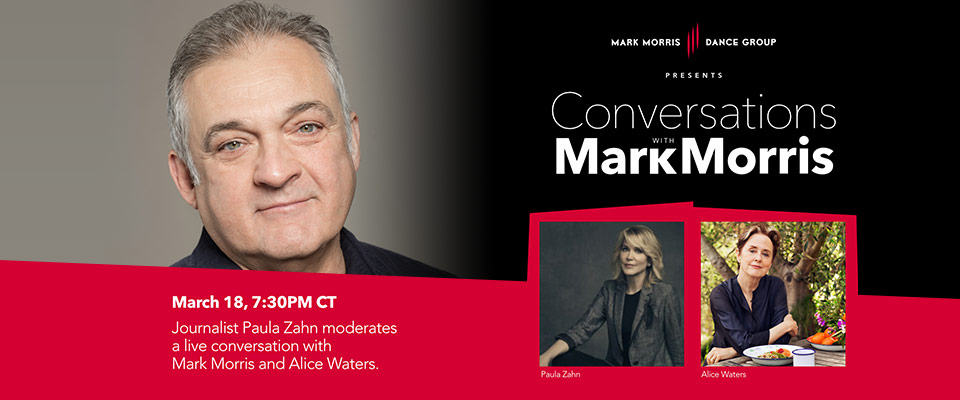 Mark Morris in conversation with Alice Waters, chef
Moderated by journalist Paula Zahn
Tickets
Free admission – donations appreciated
Part of the Conversations with Mark Morris series
Journalist Paula Zahn will moderate a live conversation with acclaimed choreographer Mark Morris and chef Alice Waters.
Audience members will have the opportunity to write questions in the chat function on the Vimeo page throughout the duration of the event.  The questions will be relayed to Paula Zahn for her to ask the panelists during the question and answer portion at the end of the event.  
---
Mark Morris, praised as "the most successful and influential choreographer alive, and indisputably the most musical" (The New York Times), was born in Seattle, Washington, where he studied with Verla Flowers and Perry Brunson. In the early years of his career, he performed with the companies of Lar Lubovitch, Hannah Kahn, Laura Dean, Eliot Feld, and the Koleda Balkan Dance Ensemble. He formed the Mark Morris Dance Group (MMDG) in 1980 and has since created over 150 works for the company. From 1988 to 1991, he was Director of Dance at the Théâtre Royal de la Monnaie in Brussels, the national opera house of Belgium. In 1990, he founded the White Oak Dance Project with Mikhail Baryshnikov. Morris is also an acclaimed ballet choreographer, with twenty-two works commissioned by ballet companies worldwide. Noted for his musicality, Morris has been described as "undeviating in his devotion to music" (The New Yorker). He was named a Fellow of the MacArthur Foundation in 1991 and has received eleven honorary doctorates to date. He has taught at the University of Washington, Princeton University, and Tanglewood Music Center. Morris opened the Mark Morris Dance Center in Brooklyn, New York, in 2001 to provide a home for his company, subsidized rental space for local artists, community education programs for children and seniors, and a school offering dance classes to students of all ages and levels of experience with and without disabilities.
Alice Waters is a chef, author, food activist, and the founder and owner of Chez Panisse Restaurant in Berkeley, California (est. 1971). She has been a champion of local sustainable agriculture for over four decades. In 1995 she founded the Edible Schoolyard Project, which advocates for a free regenerative school lunch for all children and a sustainable food curriculum in every public school. In 2015 she was awarded the National Humanities Medal by President Obama, proving that eating is a political act, and that the table is a powerful means to social justice and positive change. Alice is the author of sixteen books including her critically acclaimed memoir, Coming to My Senses: The Making of a Counterculture Cook, the New York Times bestsellers The Art of Simple Food I & II, and The Edible Schoolyard: A Universal Idea. 
Nine-time Emmy award-winning journalist Paula Zahn is the executive producer and host of Investigation Discovery's On the Case with Paula Zahn and host of WNET's weekly arts and culture multi-platform showcase, NYC-Arts. On The Case is one of the longest running investigative crime series on ID. Zahn began her journalism career in local news, working for stations in Dallas-Fort Worth, San Diego, Houston, Boston and Los Angeles. She was first introduced to national audiences as an anchor for the news segments on ABC News' Good Morning America. She went on to host shows for CBS News, Fox News and CNN. Zahn's many years of reporting have not only won her the public's trust, but many prestigious honors, including six Gracie Awards, two National Headliner Awards, and recognition of her career reportage from the Museum of Television and Radio. Zahn has also been recognized by The Albert Einstein College of Medicine, Beth Israel Medical Center, and the Congressional Families Action for Cancer Awareness among others, for her indefatigable work in raising awareness of cancer prevention and treatments. An accomplished cellist, Zahn attended college on a cello scholarship. She has performed with renowned musicians in world class venues including with the New York Pops at Carnegie Hall, the National Symphony Orchestra at the Kennedy Center, Sejong Soloists at Hoam Art Hall in Seoul and with Maestro Rostropovich in St. Petersburg, Russia as part of the 100- cello orchestra he conducted. Zahn is a member of the WNET Board of Trustees and on the Board of Governors of the Alzheimer's Drug Discovery Foundation.    
Individuals with disabilities are encouraged to attend all University of Iowa sponsored events. If you are a person with a disability who requires a reasonable accommodation in order to participate in this program, please contact Paris Sissel in advance at (319) 467-4849 or at paris-sissel@uiowa.edu.