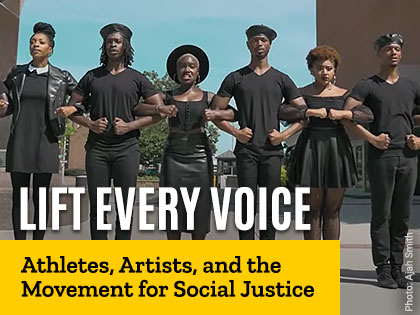 Lift Every Voice: Athletes, Artists, and the Movement for Social Justice
Join members of the DC-based dance company Step Afrika!, the first professional company dedicated to the tradition of stepping, for a discussion on Zoom about the Stono Rebellion, the Negro Act of 1740, and the shared lessons dancers and athletes can learn from the Drumfolk* who used their bodies to fight for justice so many years ago. Presented by Hancher Auditorium, in partnership with UI Athletics. This event is free and open to all. Please follow the link to register for the conversation beforehand.

*On September 9, 1739, the largest insurrection of enslaved Africans in North America began in South Carolina on the banks of the Stono River. Twenty Africans marched south toward a promised freedom in Spanish Florida, waving flags, beating drums, and shouting "Liberty!" Although the Stono Rebellion was suppressed, this little-known event in American history forever changed African American life and culture. When Africans lost the right to use their drums through The Negro Act of 1740, they began to use their bodies as percussive instruments in response. Their percussive movement gave rise to some of the country's most distinctive art forms, including the ring shout, tap, hambone, and stepping. This act of survival and activism earned them the name of "Drumfolk," coined by famed folklorist Bessie Jones.
RESOURCES
Short Video on The Stono Rebellion of 1739
https://www.ket.org/program/the-african-americans-many-rivers-to-cross/classroom-hutchinsons-rebellion
Brief Intro to the Negro Act of 1740
https://calendar.eji.org/racial-injustice/may/10
Link to PDF for the Negro Act of 1740
https://digital.scetv.org/teachingAmerhistory/pdfs/Transciptionof1740SlaveCodes.pdf