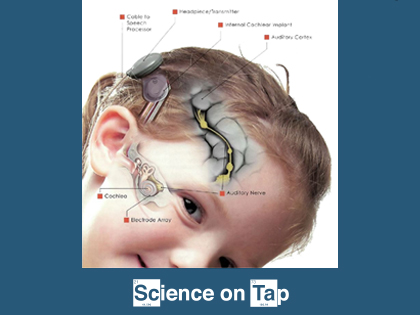 Hybrid Cochlear Implants: Improving Hearing in Noise and for Music
Presented by
Hancher

and
UI Research Development Office
Thursday, October 10, 2019,

5:30 pm

to

6:30 pm
Part of the Science on Tap series
For more than 30 years, researchers in the Iowa Cochlear Implant Clinical Research Center (ICICRC) at the University of Iowa Carver College of Medicine have been studying outcomes with cochlear implants.  The Iowa team has developed an advanced cochlear implant strategy called the hybrid cochlear implant. There are significant advantages of the hybrid system that incorporates both residual acoustic hearing with electrical processing (acoustic + electric, A+E).  Some of the advantages of A+E processing are improved hearing in noise and music.  Current research is focused on how people separate speech from noise, which is a major problem of the hearing impaired. We are studying central auditory processing to better understand how we separate speech and noise.  This presentation will provide an overview of hearing impairment, state of the art understanding of cochlear implant technology, and how we are improving the ability to understand speech in noise and music.
Presenter: Bruce Gantz (Professor, Otolaryngology-Head and Neck Surgery)
Light entrees, snacks, and refreshments will be available for purchase from the Stanley Café.
Individuals with disabilities are encouraged to attend all University of Iowa sponsored events. If you are a person with a disability who requires a reasonable accommodation in order to participate in this program, please contact Paris Sissel in advance at (319) 467-4849 or at paris-sissel@uiowa.edu.