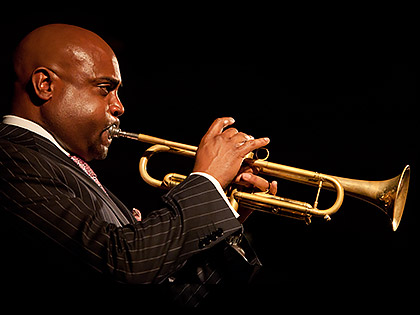 Tickets
Nonstudent $20
College student $10
Senior Citizen $20
Youth $10
Friday, February 13, 2015, 7:00 pm
Friday, February 13, 2015, 9:30 pm
Trumpeter Terell Stafford loves lyricism and melody but also pursues a spirited and adventuresome edge in his expressive performances. Stafford and his top-flight quintet tip their hats to the deep traditions of jazz while charting their own course. Band members include: Tim Warfield (sax), Josh Richman (piano), Billy Williams (drums), and David Wong (bass).
Please note: The Mill is a 19 and over establishment. Patrons under the age of 19 must to be accompanied by a parent or guardian after 10:00pm.
Terell Stafford will be in residence for four days, doing a variety of workshops and teaching with high school groups and university ensembles.
Individuals with disabilities are encouraged to attend all University of Iowa sponsored events. If you are a person with a disability who requires a reasonable accommodation in order to participate in this program, please contact Hancher in advance at (319) 335-1158.