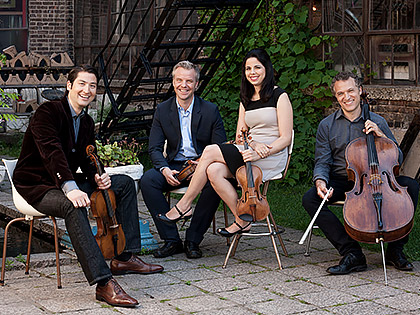 Tickets
Nonstudent $35
College student $10
Senior Citizen $31
Youth $10
Friday, March 6, 2015, 7:30 pm
Renowned for exuberance in performance and for daring repertory choices, the Pacifica Quartet is internationally recognized as one of the finest chamber ensembles performing today. The program will feature a new work, Glitter, Doom, Shards, Memory, by Pulitzer Prize winner Shulamit Ran, co-commissioned by Hancher via Music Accord.
A collaboration with the University of Iowa String Quartet Residency Program.
Pacifica Quartet
Simin Ganatra, violin
Sibbi Bernhardsson, violin
Masumi Per Rostad, viola
Brandon Vamos, cello

Program
Beethoven  •  Quartet in B-flat Major, Op. 18, No. 6
Shulamit Ran  •  Glitter, Doom, Shards, Memory

Intermission

Mendelssohn  •  Quartet in F Minor, Op. 80
Residency Events
Individuals with disabilities are encouraged to attend all University of Iowa sponsored events. If you are a person with a disability who requires a reasonable accommodation in order to participate in this program, please contact Hancher in advance at (319) 335-1160.