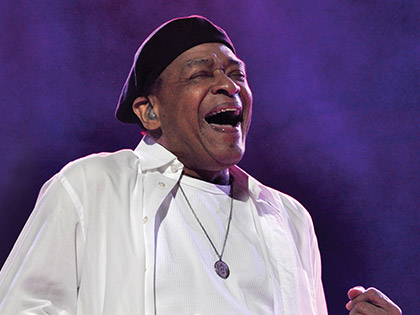 Friday, September 19, 2014, 8:30 pm
The legendary UI alum returns! His degree may be in vocational rehabilitation, but he's a world-wide vocal sensation—an undisputed master of jazz, blues, pop and soul. Hits like "After All," "We're in This Love Together," and "Mornin'," will ensure you get your "Boogie Down."
Opening Acts presented in collaboration with Legion Arts' Landfall Festival of World Music:

Sierra Leone's Refugee All Stars
7 pm

Sierra Leone's Refugee All Stars formed in 1997 when its founders came together in the Kalia refugee camp near the border with Sierra Leone, a country then in the midst of a horrific war. A Canadian relief agency donated a couple of guitars, a microphone, and a small sound system, which was all it took to launch the band. The musicians all hail from Freetown, the capital of Sierra Leone. 
 
Kinobe & The Wamu Spirit

5:30 pm
Born in Uganda and deeply steeped in the musical traditions of countries throughout the African continent, Kinobe is a multi-instrumentalist and singer-songwriter dedicated to the unifying power of music.
Individuals with disabilities are encouraged to attend all University of Iowa sponsored events. If you are a person with a disability who requires a reasonable accommodation in order to participate in this program, please contact Hancher in advance at (319) 335-1160.