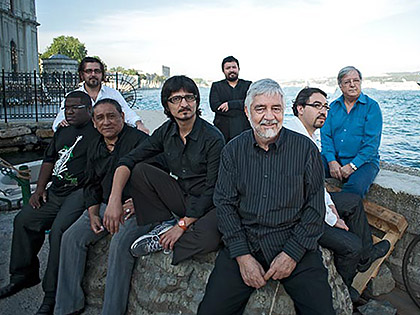 Friday, May 15, 2015, 6:30 pm
Once banned from their homeland of Chile and now beloved at home and around the world, the members of Inti-Illimani write and perform songs that are both of a specific place and universally resonant. Singing and playing more than thirty instruments, Inti-Illimani delves deeply into the human experience.
A collaboration with the Summer of the Arts Friday Night Concert Series.
Rainy weather?
The rain location for the Friday Night Concert Series will be the lower level of the Chauncey Swan Parking Ramp at Washington and Gilbert streets. Concerts moved to the rain location will be announced by 4 p.m. the day of the performance and posted on the Summer of the Arts website and social media.
---
Supported, in part, by the Iowa Arts Council, a division of the Iowa Department of Cultural Affairs, and the National Endowment for the Arts.

Inti-Illimani will tour the state during their weeklong residency in Iowa, spending time in Maquoketa, Okoboji, and Iowa City.
Individuals with disabilities are encouraged to attend all University of Iowa sponsored events. If you are a person with a disability who requires a reasonable accommodation in order to participate in this program, please contact Hancher in advance at (319) 335-1158.