Submitted by

zwoodworth

on Wed, 2022-10-05 10:55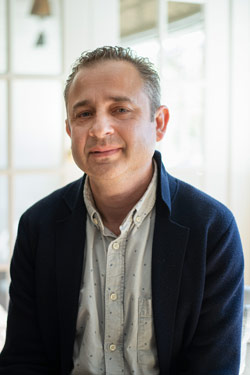 Aaron Greenwald will be the new programming and engagement director for the University of Iowa's Hancher Auditorium and Office of Performing Arts and Engagement. His first day will be Oct. 17.
Greenwald most recently served as managing director of the Big Ears Festival—described by The New York Times as "one of the world's greatest music bashes"—in Knoxville, Tennessee, from 2020 through 2022. Greenwald helped steer the festival through the COVID-19 pandemic and to a successful return to in-person programming in March 2022. During his tenure, he managed the festival's overall strategy and operations and worked to devise streaming programming, community engagement, site-specific projects, and literary events.
Before directing the Big Ears Festival, Greenwald served as executive director of Duke Performances at Duke University in Durham, North Carolina, from 2006 until 2019. During his 12-year tenure, he grew Duke Performances from a regional presenter to an organization with a national profile. With an emphasis on commissioning, producing, and presenting, Duke Performances offered shows at more than a dozen venues both on campus (at Duke) and in town (in Durham).
"We are so excited to welcome Aaron to our senior leadership team," said André Perry, the Chuck Swanson Executive Director of Hancher Auditorium and executive director of the Office of Performing Arts and Engagement. "He is among the leading programmers and community builders in the performing arts world. With his commitment to the arts as a means toward transformation, education, and joy, it makes so much sense that he has chosen to settle at the University of Iowa—a place that has championed creative practice for over a century."
Hancher and the Office of Performing Arts and Engagement—working closely with partners in the College of Liberal Arts and Sciences—are reimagining the ways in which the entire performing arts community on the UI campus can collaborate, innovate, and serve the community now and for decades to come.
"With our new focus on performing arts at Iowa as a whole, we have an amazing opportunity to reshape our leadership with a balance of substantial institutional knowledge and new voices who bring fresh perspective to our mission-based work," Perry said. "With the addition of Aaron, our team is one step closer to building the cohort that will steward the future of our work under the banner of Performing Arts at Iowa."
For Greenwald, the position offers an opportunity to build not only on his own work in the field, but on the UI's work as well.
"The University of Iowa has a long and storied history of elevating creative work and placing a high premium on innovation in the arts," Greenwald said. "I look forward to building on this splendid foundation in helping to create an organization that engages campus, community, and artists to participate in authentic, impactful, and forward-looking work." 
During Greenwald's tenure Duke Performances commissioned, developed, and premiered more than 50 major new works including projects from composers Caroline Shaw, John Luther Adams, Steve Reich, and Jason Moran; choreographers/dance companies Shen Wei Dance Arts, Alonzo King Lines Ballet, and Pam Tanowitz Dance; and musicians Justin Vernon (Bon Iver), Simone Dinnerstein, Branford Marsalis, and The Bad Plus, amongst others. Further, Greenwald devised several 10+ day festivals focused on topics ranging from the music and culture of the Black Atlantic to the world's largest celebration of Thelonious Monk's centenary. Greenwald conceived and spearheaded Duke University's ambitious three-year, multi-level partnership with American Ballet Theatre. Prior to arriving at Duke, Greenwald helped conceive and produce The New Yorker Festival and The New York Comedy Festival. Straight out of college, he spent several years producing country music videos in Nashville including the iconic video for Kenny Chesney's She Thinks My Tractor's Sexy.
Thumbnail Image:

Media Date:
Wednesday, October 5, 2022