Drawing Closer: Celebrating Hancher's Upcoming Opening
featuring Squonk Opera, Pneumatica
Saturday, August 22, 2015, 11:00 am
A family festival from 11am - 3pm
Gather up your friends and family, and join us for a day of chalk art. Whether you simply marvel at the creations of professional artists or grab a piece of chalk yourself, you'll have a memorable day as we look forward to the opening of the new Hancher facility in the fall of 2016. Games, face painting, and balloon animals will be a part of the party. Sno Biz of Iowa City, The Wedge, and North Dodge Hy-Vee will have delicious food for sale.
Also on hand: Squonk Opera—a band, a spectacle, an experience. The Squonkers will perform Pneumatica, an event about air, made of air, and powered by air. As the 40-foot inflatable Lady Pneumatica breathes, the music incorporates the swoops and eddies of air to create wild, captivating music, perfect for this day of celebration and anticipation.
Pneumatica performance times:
11:30 am - 12 noon
1 - 1:30 pm followed by a STEAM workshop
2:30 - 3 pm
Parking for Drawing Closer will be available in the Hancher parking lot. Those with accessibility needs can be dropped off at either the event gate along Park Road or at the gate adjacent to the Hancher parking lot.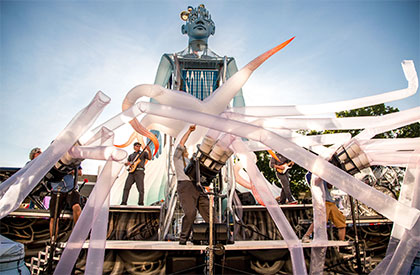 Individuals with disabilities are encouraged to attend all University of Iowa sponsored events. If you are a person with a disability who requires a reasonable accommodation in order to participate in this program, please contact Hancher in advance at (319) 335-1160.