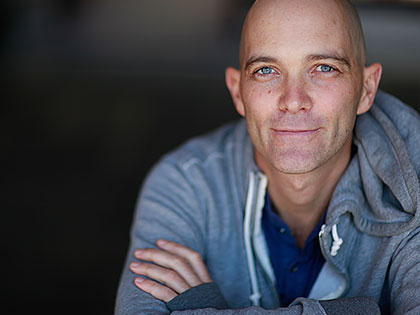 A Conversation with Taylor Mac
Presented by the Obermann Center for Advanced Studies and Hancher
Jennifer Buckley will facilitate a conversation with Taylor Mac about Taylor's work as a playwright, director, actor, drag performer, and activist. It will focus on Taylor's newest piece, A 24-Decade History of Popular Music and the decade 1846-1856, titled Walt Whitman vs. Stephen Foster: Songs Popular Near Breaking Point.
Taylor Mac (who uses "judy", lowercase sic, not as a name but as a gender pronoun) is a playwright, actor, singer-songwriter, performance artist, director and producer.  "A critical darling of the New York scene" (NY Magazine), TimeOut NY has called Mac, "One of the most exciting theater artists of our time" (naming judy a future theater legend).  American Theater Magazine says, "Mac is one of this country's most heroic and disarmingly funny playwrights." The New Yorker says, "One of contemporary theater's more unforgettable performances." The Village Voice named judy the Best Theater Actor in New York (2013) and Best Male Vocalist (2015). The New York Times says of Mac in general, "Fabulousness can come in many forms, and Taylor Mac seems intent on assuming every one of them."
Dr. Jennifer Buckley is an assistant professor in English and Rhetoric and a director of the Obermann Center's Performance Studies Working Group. She teaches, researches, and writes about modern drama, theatre, and performance in Europe, the UK, and the US, as well as about modernist print cultures. Her current research investigates the complex relationship between text and performance in the twentieth century avant-gardes.