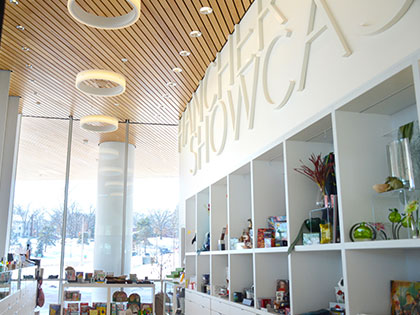 Hancher Showcase • Daytime Shopping
Wednesday, September 27, 2023, 11:00 am
Wednesday, October 4, 2023, 11:00 am
Wednesday, October 11, 2023, 11:00 am
Wednesday, October 18, 2023, 11:00 am
Wednesday, October 25, 2023, 11:00 am
Wednesday, November 1, 2023, 11:00 am
Thursday, November 2, 2023, 11:00 am
Tuesday, November 7, 2023, 11:00 am
Wednesday, November 8, 2023, 11:00 am
Thursday, November 9, 2023, 11:00 am
Tuesday, November 14, 2023, 11:00 am
Wednesday, November 15, 2023, 11:00 am
Thursday, November 16, 2023, 11:00 am
Tuesday, November 28, 2023, 11:00 am
Wednesday, November 29, 2023, 11:00 am
Thursday, November 30, 2023, 11:00 am
Tuesday, December 5, 2023, 11:00 am
Wednesday, December 6, 2023, 11:00 am
Thursday, December 7, 2023, 11:00 am
Tuesday, December 12, 2023, 11:00 am
Wednesday, December 13, 2023, 11:00 am
The Hancher Showcase is staffed and managed by the Hancher Guild and offers unique items perfect for gifts—or for yourself! All proceeds support Hancher's educational programs.
OPEN 11 a.m. – 2 p.m.
WEDNESDAYS
September & October; January–May

TUESDAYS–THURSDAYS
November & December

CLOSED
June–August
 
OPEN for performances
The store typically opens 90 minutes prior to the performance and stays open through and after the performance.
For performances in Strauss Hall, the store closes soon after a performance has started.
In recognition of Robert and Jane Downer
Individuals with disabilities are encouraged to attend all University of Iowa sponsored events. If you are a person with a disability who requires a reasonable accommodation in order to participate in this program, please contact Paris Sissel in advance at (319) 467-4849 or at paris-sissel@uiowa.edu.