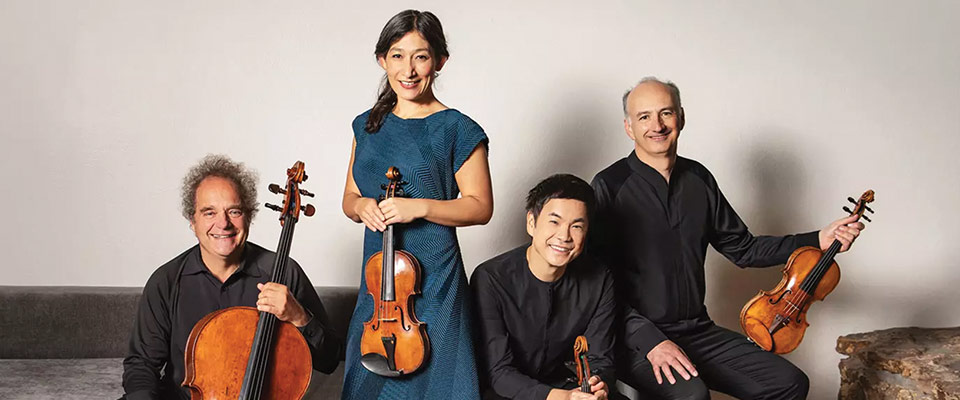 Presented by
Hancher

and
The Englert Theatre
Tickets
Adults $40
Students & Youth $10
Presented in collaboration with The Englert Theatre
Formed in Budapest in 1975, the Takács Quartet garnered international attention two years later by winning first prize and the critics' prize at the International String Quartet Competition in Evian, France. Those were just the first of many, many accolades to follow. Now the quartet-in-residence at the University of Colorado, the Takács is renowned for "marrying aristocratic elegance and red-blooded energy to everything they play." (Seen and Heard International) Presented at The Englert to increase the immediacy of the performance, the concert will put the audience up close to one of the world's legendary string quartets.
The program features Joseph Haydn's "Sunrise" quartet, the opening movement of which invokes the sun's journey to brilliant emergence in the sky. Beethoven's quartet balances the Haydn piece with a second movement reflecting contemplation of the starry sky and the music of the spheres. In between, work by Béla Bartók draws deeply from Hungarian folk music. 
PROGRAM
Joseph HAYDN: String Quartet in B-flat Major, op. 76, no. 4 ("Sunrise")
Béla BARTÓK: String Quartet No. 2, Sz. 67
Ludwig van BEETHOVEN: String Quartet No. 8 in E Minor, op. 59, no. 2
---
HANCHER EVENT PARTNERS
Artemus Bush-Helen Jones Trust
Individuals with disabilities are encouraged to attend all University of Iowa sponsored events. If you are a person with a disability who requires a reasonable accommodation in order to participate in this program, please contact Paris Sissel in advance at (319) 467-4849 or at paris-sissel@uiowa.edu.