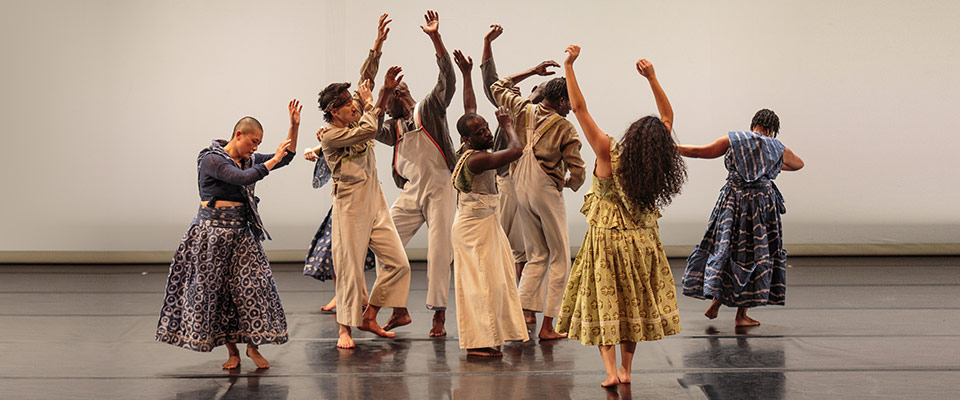 Reggie Wilson/Fist and Heel Performance Group
Tickets
Adults $25
Students & Youth $10
Presented in collaboration with Creative Matters, a program of the Office of the Vice President for Research
Taking its name from the reinvented spiritual traditions of enslaved Africans in the Americas—a reinvention dismissed as "fist and heel worshipping"—the Reggie Wilson/Fist and Heel Performance Group's body of work draws from the spiritual and earth-bound traditions of Africa and its diaspora. Choreographer and artistic director Reggie Wilson, who founded the company in 1989, was an inaugural Doris Duke Artist—The New York Times proclaimed him, "One of this country's most talented choreographers."
Expanding on his previous research of African American spiritual worship and movement, Wilson's most recent work, POWER, considers how the Black Shaker communities in the early 1800s might have lived and worshiped. POWER takes inspiration from significant Shaker women leaders like Mother Ann Lee, founder of the Shaker community and Mother Rebecca Cox Jackson, founder of the first African American Shaker community in Philadelphia. Featuring a thrilling cast of dancers and musicians, POWER examines and enlivens Shaker values, contributions, practices, and history through a postmodern American lens. 
---
HANCHER EVENT PARTNERS
Vernon Hein Fund
Charlotte & Rudy Schulz Director's Fund
Derek & Pamela Willard
Residency Events
Open to the Public
Monday, February 13, 2023, 6:00 pm
Individuals with disabilities are encouraged to attend all University of Iowa sponsored events. If you are a person with a disability who requires a reasonable accommodation in order to participate in this program, please contact Paris Sissel in advance at (319) 467-4849 or at paris-sissel@uiowa.edu.