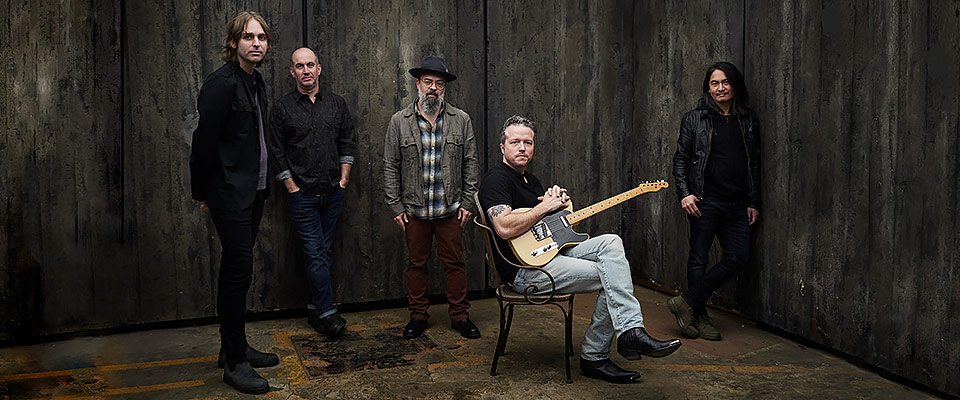 Jason Isbell and the 400 Unit
Presented by
Hancher

and
The Englert Theatre
Tickets
Adults $135 / $95 / $65
Students & Youth $135 / $95 / $25 (limited availability)
This performance is part of Hancher's 2023-2024 season. The full season will be announced on July 12.
A Jason Isbell record always lands like a decoder ring in the ears and hearts of his audience, a soundtrack to his world and magically to theirs, too. Jason Isbell and the 400 Unit come to Hancher in support of Weathervanes, a new record that carries that same revelatory power—power that will be even more palpable in live performance. This is a storyteller at the peak of his craft, observing his fellow wanderers, looking inside and trying to understand, reducing a universe to four minutes. He shrinks life small enough to name the fear and then strip it away, helping his listeners make sense of how two plus two stops equaling four once you reach a certain age—and carry a certain amount of scars.
Wednesday will open for Isbell. Pitchfork says of the band's new record, Rat Saw God, "Wednesday's noisy, rangy sound finds a home in the quiet, lonely corners of America. Their outstanding new album is why they're one of the best indie rock bands around."
Jason Isbell and the 400 Unit Website
Individuals with disabilities are encouraged to attend all University of Iowa sponsored events. If you are a person with a disability who requires a reasonable accommodation in order to participate in this program, please contact Hancher in advance at (319) 335-1160.