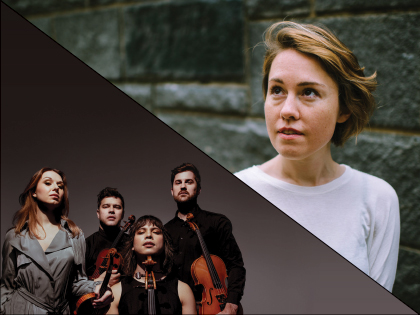 Attacca Quartet and Caroline Shaw in conversation with Beth Oakes
Tuesday, September 19, 2023, 6:00 pm
Part of the Creative Matters lecture series. 
The members of the acclaimed Attacca Quartet—described by The New York Times as "exuberant, funky, and … exactingly nuanced"—are passionate advocates of contemporary repertoire and new work—including that of composer and vocalist Caroline Shaw.
Caroline Shaw is a musician who moves among roles, genres, and mediums, trying to imagine a world of sound that has never been heard before but has always existed. She works often in collaboration with others, as producer, composer, violinist, and vocalist. Caroline is the recipient of the 2013 Pulitzer Prize in Music, several Grammy awards, an honorary doctorate from Yale, and a Thomas J. Watson Fellowship. Her favorite color is yellow, and her favorite smell is rosemary.
On Sunday, Sept. 17, at Hancher, Shaw and the Attaca Quartet will perform music from their 2022 album Evergreen, which, like their previous record, Orange, garnered a Grammy.
Elizabeth Oakes, professor of instruction and chamber music in the UI School of Music, will join them on stage to discuss her creative process.
Following the talk, the UI Symphony will play Shaw's Entr'acte during their concert at 7:30 p.m. the same evening in the Concert Hall at Voxman.
Free & open to the public