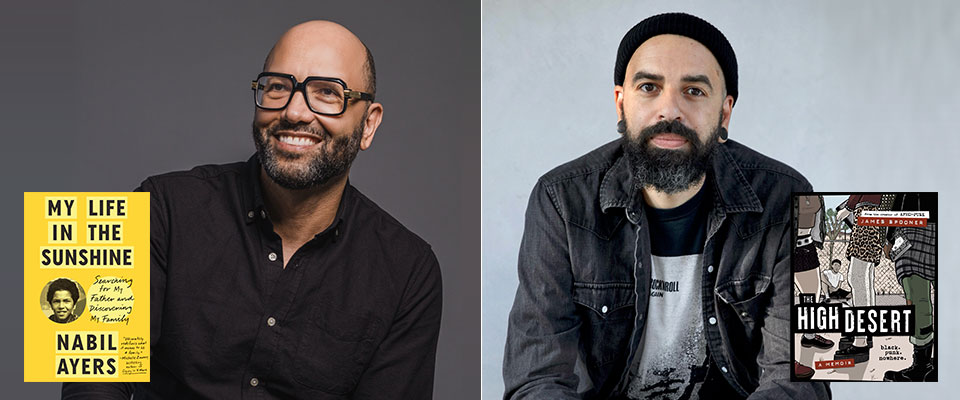 Nabil Ayers & James Spooner: Reading and Q&A
Moderated by UI professor Deborah Whaley
Presented by
Hancher

,
Prairie Lights

,
The Englert Theatre

, and
UI Office of Performing Arts and Engagement
Friday, September 23, 2022, 7:00 pm
Nabil Ayers is a music industry executive, writer, and musician as well as CEO of Beggars Group USA, one of the preeminent global music labels, which has elevated countless independent artists into the larger contemporary music conversation. He has been a drummer in several bands and is the son of jazz-funk luminary Roy Ayers. Nabil will read from his just released debut book My Life in the Sunshine: Searching for My Father and Discovering My Family.
James Spooner is a revered tattoo artist who just released The High Desert, a new coming-of-age graphic memoir. He directed the groundbreaking documentary Afro-Punk in 2003 which explored the experiences and tensions of Black Americans in punk/alternative scenes. Among numerous subjects, the film focused on the late singer/musician Matt Davis who was a member of the Iowa City band Ten Grand.
Deborah Whaley is an artist, curator, writer, poet, and Professor of African American Studies at the University of Iowa.
Presented by Hancher Auditorium, University of Iowa Office of Performing Arts & Engagement, and The Englert Theatre in collaboration with Prairie Lights
Residency Events
Open to the Public
Friday, September 23, 2022, 2:00 pm
Individuals with disabilities are encouraged to attend all University of Iowa sponsored events. If you are a person with a disability who requires a reasonable accommodation in order to participate in this program, please contact Hancher in advance at (319) 335-1160.