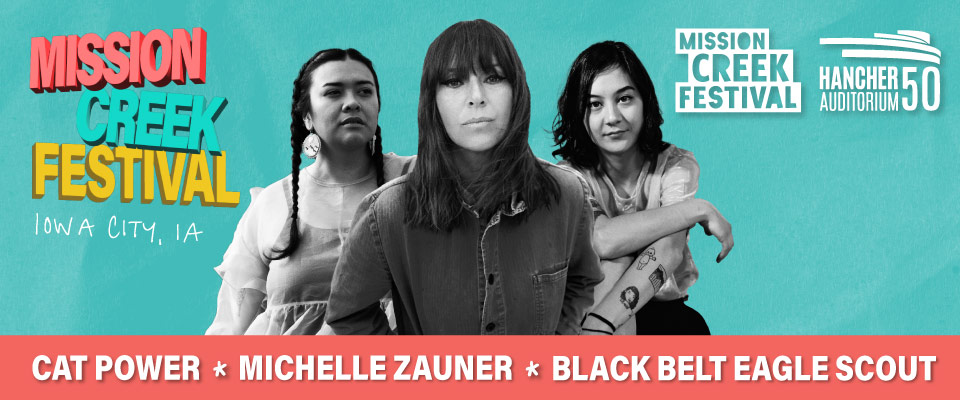 Cat Power (duo) | Michelle Zauner | Black Belt Eagle Scout
An evening of music and literature
Presented by
Hancher

,
Mission Creek Festival

, and
The Englert Theatre
Tickets
AVAILABLE ONLY THROUGH THE ENGLERT BOX OFFICE
Full Festival Pass: $80-$110 + Fees – available now!
Student Full Festival Pass: $55 + Fees – available now in limited quantities!
Thursday, Friday, and Saturday Day Passes: $50-$60 + Fees – available Jan 13
4:00 p.m. – Doors and café open to public
5:45–6:45 – Reading and Q&A with Michelle Zauner
7:15–7:50 – Performance by Black Belt Eagle Scout
8:30–9:45 – Performance by Cat Power (duo)
Hancher Auditorium is thrilled to host the opening ceremonies of Mission Creek Festival 2023 on Thursday, April 6. This event marks a renewal of our collaboration with the festival after co-presenting comedian Bassem Yousef in 2018 and Andrew Bird, My Brightest Diamond, and Kelly Link in 2017.
For Mission Creek's opening day, Hancher will transform into a single-site festival venue and present a multidisciplinary program featuring a reading and Q&A by Michelle Zauner (author of Crying in H Mart and Japanese Breakfast songwriter), a performance by Black Belt Eagle Scout, and a headline performance by legendary artist Cat Power in a striking piano and guitar duo format.
Mission Creek has always been a champion of independent voices in literature and music, and Hancher is honored to welcome these revered, rising, and remarkable artists to our community and the University of Iowa.
Cat Power: Through a 30-year career spanning a variety of stylistic poses, Cat Power's Chan Marshall has become an indie rock legend. Her songwriting and singing offer a remarkable range, moving from the intimate to the grandiose, but always honest and astounding. Cat Power will perform at Mission Creek Festival in a striking guitar/piano duo format.
Michelle Zauner: Known to many by her indie rock moniker Japanese Breakfast, Zauner will read from Crying in H Mart, her heartfelt and humorous debut memoir about family, food, grief, love, and growing up Korean American in Eugene, Oregon. Bryn Lovitt will moderate a conversation and Q&A with Zauner.
Black Belt Eagle Scout: The musician also known as Katherine "KP" Paul is renowned and beloved for "bringing queer Indigenous stories to indie rock" (Pitchfork).
---
TICKETING
All passes for the Mission Creek Festival will be solely available from The Englert Box Office—both online and in person.
Full festival passes—which grant guaranteed access to the engagements at Hancher and festival events on April 7-8 in downtown Iowa City—are on sale now online [provide the direct ticketing hyperlink] and at The Englert's box office.
Single-day Thursday passes—which only grant guaranteed access to these events at Hancher—will go on sale on January 13.
Note: All seating for the events at Hancher Auditorium will be general admission.
---
Mission Creek Festival website
Japanese Breakfast (Michelle Zauner) website
Individuals with disabilities are encouraged to attend all University of Iowa sponsored events. If you are a person with a disability who requires a reasonable accommodation in order to participate in this program, please contact Hancher in advance at (319) 335-1160.