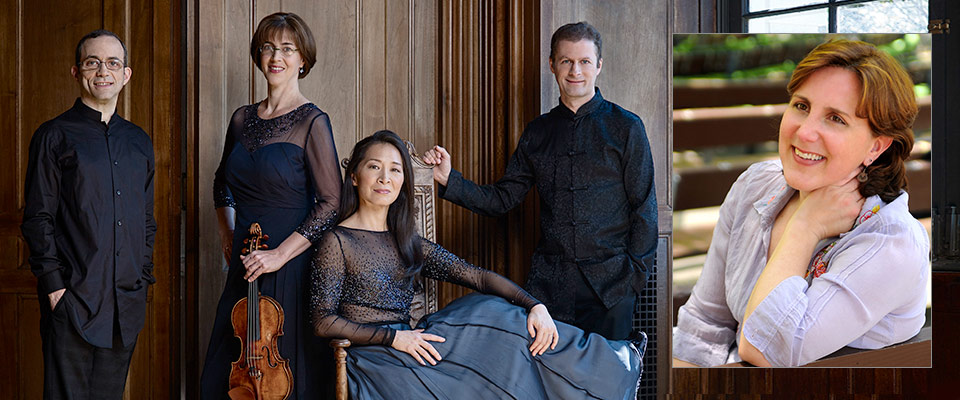 Brentano String Quartet and Dawn Upshaw
Presented by
Hancher

and
School of Music
Tickets
ADULTS: $40 / $30 / $25
COLLEGE STUDENTS: $32 / $10 / $10
YOUTH: $32 / $10 / $10
A collaboration with the University of Iowa String Quartet Residency Program
Part of Hancher's Golden Anniversary Season
"Dido of ancient times, whether real or fictional, had no choice," writes librettist Stephanie Fleischmann. "Our Dido, however, has the power to determine her own fate." Fleischmann and composer Melinda Wagner's Dido Reimagined brings an ancient myth into contemporary reality. Soprano Dawn Upshaw and the Brentano String Quartet will share music inspired by the Dido story culminating in a stirring performance of Wagner's and Fleischmann's reimagining.
PROGRAM
Henry Purcell: "Oh, let me weep"
Purcell: Fantasia No. 5
Matthew Locke: Fantazie, from Suite No. 2 for four viols
John Dowland: "Come again, sweet love doth now invite"
Locke: Courante, from Suite No. 2
Dowland: "Can she excuse my wrongs"
Locke: Ayre, from Suite No. 2
Dowland: "Weep you no more, sad fountains"
Locke: Saraband, from Suite No. 2
Thomas Tomkins: Aleman
William Byrd: "Though Amaryllis dance in green"
Robert Johnson: The Witty Wanton
Purcell: Fantasia No. 7
Purcell: Dido's Lament

Intermission

Music by Melinda Wagner; Libretto by Stephanie Fleischmann: Dido Reimagined
---
Preorder food from the Stanley Café!
Avoid the lines by making your food selections before you come to Hancher Auditorium. The Stanley Café will have staff members ready to get your order—including beverages you order when you pick up your food—fast! 
Orders must be placed by noon the day before the performance.
---
EVENT PARTNERS
Douglas and Linda Behrendt
Individuals with disabilities are encouraged to attend all University of Iowa sponsored events. If you are a person with a disability who requires a reasonable accommodation in order to participate in this program, please contact Hancher in advance at (319) 335-1160.